52nd Container to Rivas
May 18th marked the shipment of the 52nd container of bicycles to EcoBici in Rivas, Nicaragua. Our relationship with this organization is the longest in our 23 years of partnership building. This current delivery contains 580 bikes that add to the 22,044 cycles already in circulation in the region and will contribute to the organization's goal of community development and focus on enabling much-needed reforestation in the region.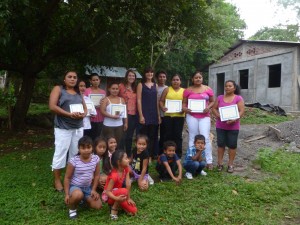 P4P is also pleased to add 6 sewing machines to the container shipment. Our readers are of course already familiar with the Clif Bar Family Foundation's steady and generous support of our programs and so it is not unexpected that the shipping and import taxes have been covered by them. What is new here is that the sewing machines are destined for a different locale in the region. In April, we were contacted by Noelle London, a Peace Corps volunteer who is involved in small business development in Nicaragua. London wrote that she lives on Ometepe, an island close to Rivas. This island, situated on Lake Nicaragua, is steadily becoming a tourist destination and she informed us that, currently, most of the souvenirs visitors purchase there tend to be made in Granada or Masaya.
London informed us that, with reliable and efficient tools, the local women could develop a thriving base of manufacture in their community of Balgüe: "They have begun to sell in a couple of locations on the island and even in a fair in Managua but are unable to keep up with the current demand as they only have 3 working machines."
Read Entire Article