Below is an excerpt from a letter we recently received from our partners in Uganda.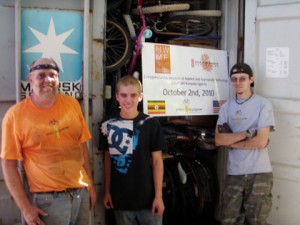 We look forward to the next container [note: due October, 2010], not only because of its contents but mainly because it has opened a way to achieve our target of six containers every year. Of late we had failed to raise necessary money and our project had come to a halt. The setback nearly wiped out our program, but the assistance received from P4P, for whom we are very grateful, will awaken our project. With the proceeds from this container we will be sustainable and be able to take in three to six containers every year. It was only through the hard work, persistence, and dedication to our cause that P4P was able to solicit the funds to cover the freight cost of our container. We are indeed grateful to David, the Clif Bar Family Foundation and the Helen & William Mazer Foundation for awakening this project. Now we expect to import approximately 2,700 bikes and 300 sewing machines within the next three years. This, coupled with the number of trained students in our school finding work or starting their own enterprises will make an enormous difference in our area.
Our project is based in Kampala, but we have received requests and plan to expand our distribution network by setting up programs throughout the country. We are indeed lucky that EIAAT in Uganda is one of P4P's active participants.