by Nguyen Van Hanh
Winter 2011 InGear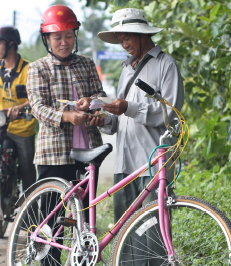 Mr. Tran Van Oanh, 56 years old, was born to a poor family in Vung Liem district, in the Mekong province of Vinh Long, 180 km west of Ho Chi Minh City. In addition to his economic hardship, he was born with a hearing impairment. By the late 1980s, he was married and became the father of two children. During the 1990s, he took on many different kinds of work, including masonry and cutting rice for land owners. Even with this effort and hard labor, he could hardly earn enough to feed his family. By 2000, he became ill and weak and could no longer do hard work, so he took on a job as a lottery ticket seller, a popular job in the poor region of Mekong Delta. Most of the family's income is still generated from his occupation.
Although unable to hear, he can speak and is very friendly and does relatively well, but it still remains hard for him to afford food and other expenses for the family. Many people do buy lottery tickets from him, sometimes not because of their interest in the game but because of his circumstances. He has to walk from dawn to dusk around 25-30 km in the district to sell the tickets. He can sell around 100 tickets every day and earns around 5 U.S. dollars.
At the end of July 2011, he was granted a bicycle, donated by Pedals for Progress through The Dariu Foundation (TDF) and Vinh Long Friendship Organization, and has used the bicycle for his job since then. The Dariu Foundation is a Swiss non-government organization, operating in Vietnam since 2003 with a focus on poverty reduction and education development through programs of microfinance, scholarships for poor students, building kindergartens, and offering training in computer skills to rural students. Mr. Tran is one among more than 500 poor families in Vinh Long province who are lucky enough to get the donated bicycles from P4P through The Dariu Foundation. This was the first shipment by P4P to Vietnam, and the next one is expected to be shipped this November.
Today, there are more than 15,000 households benefiting from TDF's microfinance services, served by a portfolio of 2.1 million U.S. dollars. "I am very happy because firstly it is a very nice and good bike. Secondly, it is my dream to have a bike to help my job be much more convenient. And lastly it helps double my sales and income. Previously, I just earned $4.00-$5.00 per day, but now I can gain $10.00 a day," said Mr. Tran. "I hope I can soon earn and save enough money to pay for my wife's surgery. Now I can go home early to help my wife with housework and take care of the family," he added.