InGear Fall 2005
Scarlet Bello, or Karla as she is more widely known, owns and runs EcoBicicletas in Rivas, Nicaragua. She opened her shop 3 years ago but her relationship with Pedals for Progress goes back at least 10 years. Karla began working with P4P's partner Grupo Sofonias in Jinotepe, Nicaragua in 1997. Karla was the manager of the bicycle shop. As such she was in charge of everything from inventory, pricing to selling bicycles. Karla was able to create a viable business for Grupo Sofonias while selling quality bicycles to people in need of transportation.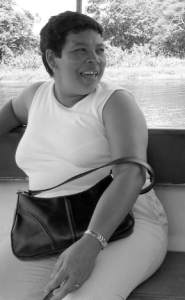 In addition to being a wife, mother of 2 children and working full time, Karla attended the University in Managua to receive her degree in Accounting. She wanted to get a better understanding of how to run a business from the inside out. She already had the practical know-how of running a business but wanted to get the academic training as well. Due to medical problems in 2002 Karla was unable to continue working for Grupo Sofonias. This is where she becomes an exception to the normal custom in Nicaragua. Once Karla had recovered and was able to work, she and her husband decided to open another bicycle shop in their home town of Rivas. For Karla the bicycle business is her lifeline. She explained to me that "As a woman over the age of 35 in Nicaragua, I am condemned to a life of unemployment in the professional sector, unless I work for myself." For professional women in Latin American countries this is all too common. The job market caters only to single women under the age of 35.
Karla lives and breathes the bicycle business. She loves every aspect of her work. With her expressive face she explained all of her roles in EcoBicicletas. When a container of bicycles arrives in Rivas from Pedals for Progress, Karla must travel to Rivas (about 30km) daily for 10 days straight. The process of unloading, sorting and pricing the bikes is all overseen by Karla. Once the bikes are ready to sell, Karla keeps the warehouse and what she has sold.
She also prepares the accounting books for review by the company's accountant. It is very difficult to fake the enthusiasm I saw in her face and the words she used to describe her business. What I most admire about Karla is that she is a business woman who understands market-driven prices and how to keep her operating costs down, but more importantly she is a very compassionate and trusting employer. "I treat my employees as if they are part of my family. I give them a bonus at the end of the year, buy them birthday presents, and even help some pay for their children to go to school. If I show them that I respect them, I will never have any problems in my shop." Out of her 5 employees, 3 of them are single mothers who would also be subject to the same job market restrictions Karla was subject to when she returned to work after recovering from her medical condition. Since 2002 Karla has been able to sell around 1,500 bikes per year. EcoBicicletas does not even need to advertise their products; the people know when the new bikes arrive in Rivas. Due to her success in Rivas, Karla has opened a second shop in Nandaime, a smaller city than Rivas, but she is able to sell around 50 bikes a month there.
There has been somewhat of a phenomenon in Nandaime with the bicycle repair and parts businesses. They have seen almost twice the amount of customers since EcoBicicletas has come to town. The positive economic effects of EcoBicicletas can be seen in many ways. What does Karla enjoy most about owning EcoBicicletas? "When I see a mother who does not have a lot of money come to my store and she is able to buy a quality bike for her child, one that she knows will last and let her child go to school, that is the best part. To see her expression of pride that she was able to get this bicycle, that is why I do this." Karla also takes great pride in the sewing machines that she donates to people and organizations in need. She has been to known to give some to the "House of the Woman" in Nandaime, so now they can hold courses at no cost to women who want to learn how to sew. There are several under-funded technical high schools around Rivas that have benefited from the sewing machines as well. This is her way of giving back to her community, her social responsibility.
As an overseas partner of Pedals for Progress, Karla has been able to accomplish many goals that women in most developing countries are not able to do. She is her own boss, trusting employer and teacher. Karla's story is one of self-empowerment through something as simple as selling bikes. Karla has been able to create an independent life for herself and her family and helped her community by partnering with Pedals for Progress. EcoBicicletas is a definite success story for Pedals for Progress, but this success would not have been possible without Karla's careful direction and dedication.