by Reykha Bonilla
InGear Fall 2006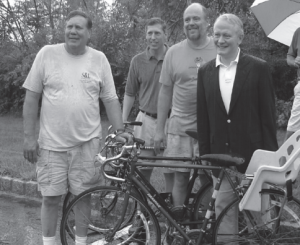 2006 was a remarkable year for Pedals for Progress. We reached two important milestones, our 15th anniversary and our 100,000th bicycle. While we're proud of our longevity, the second accomplishment symbolizes so many things for Pedals for Progress. It's the culmination of 15 years of hard work and dedication from Dave Schweidenback, the P4P staff and countless volunteers. It means 100,000 bicycles have been saved from landfills here in the United States, and at least 100,000 Americans have been connected to the larger global community through our work. And most important, 100,000 of the world's working-poor families now have a better chance to earn a decent living. Our 100,000th bicycle showed up at a collection sponsored by the Somerset Hills Kiwanis on June 24th at the Sunset Inn in Clinton, N.J. On hand to commemorate the occasion and read a proclamation was New Jersey State Senator Leonard Lance, who personally thanked the surprised donor, Bob Uhlendorf of High Bridge, for his noteworthy red 10-speed Rampar.
Once the collection was over and photographs taken, Bob's old 10-speed was packed into a container with more than 500 other bikes destined for Guatemala and our partner nonprofit organization, FIDESMA (Integrated Foundation for Sustainable Development and the Environment). When the container shipped, I sent FIDESMA a letter identifying the bicycle and explaining why we were tracking it. Then in August I received word that the container, after an eight-week journey, finally arrived. And I flew there to meet it. Guatemala is a breathtaking country with tall green mountains and lush valleys. From the airport we followed the Pan-American Highway, two lanes that wound up and down the mountains. We passed robust and plentiful fields of corn, beans and strawberries. And every few minutes a brightly painted old school bus would honk loudly, pass and leave behind the acrid smell of diesel exhaust. As it cleared, the sweet, ever-present scent of wood smoke returned.
Two hours from Guatemala City, we left the Pan-Am highway, and in so doing, left pavement for paving stones. This was the road from the city of Chimaltenango to San Andres de Iztapa, a rural town of 13,000 at an elevation of 5,400 feet and the home of FIDESMA. A few miles later we were in San Andres, where dogs and chickens ran freely in the streets. Ours was one of the rare cars in town. More people were on bicycles and the ubiquitous red motorcycle taxis from India called Tuk-Tuks. In the distance one of Guatemala's many active volcanoes peeks over San Andres. There is a vibrant indigenous culture throughout much of Guatemala. Men and women in San Andres still wear colorfully embroidered traditional garb and leather sandals and speak their indigenous languages as well as Spanish. Many of the younger people also wear "American"-style clothes, including jeans. At FIDESMA, three simple block buildings painted bright green, things were bustling. Through FIDESMA, residents in San Andres benefit from the bicycle sales, donations of corn (provided by the U.S. government), micro-loans for farmers and small businesses a free dental clinic and an affordable housing project.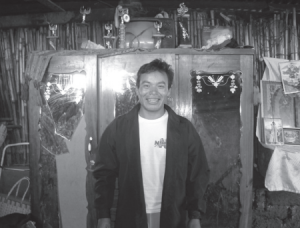 It seemed nearly everyone in San Andres knew FIDESMA's director, Margarita Catu, proof of the important role she and FIDESMA play in the community. During my first day there, with FIDESMA's help I caught up to our 100,000th bike and met its new owner, Mateo Patzan—or "el Chino," as he's known around the region. Energetic and full of optimism, Mateo is a small man at 5 feet tall and has the slim body of a champion cyclist, which, I soon learned, he is. After inviting me to his humble two-room home constructed from adobe bricks and plastic sheets and with a corrugated zinc panel for a front door, he introduced me to his family and his many cycling trophies. His face lit up when I asked him about his cycling experiences over the past ten years and how he has managed to do so well with so few resources.
The proud father of five children, for the past seven years Mateo has also been the champion of Chilmaltenango. Mateo is from a small village outside of San Andres de Iztapa called Los Corrales. With his worn out bike, he not only wins races and competes with the best cyclists in Guatemala, he's also an inspiration to the people of his town.
Cycling is a very popular sport in Guatemala. Mateo began cycling ten years ago at the age of 21. After becoming frustrated playing soccer, he thought it would be fun to try a more individual sport. During his first race, Mateo placed second. He wasn't pleased with this result—he wanted to win. Determined to do so, he began working with his cyclist friends to learn how to train properly in order to win his next race. He's since won many. FIDESMA supports Mateo by providing Gatorade, spare parts and cheers. With this modest sponsorship, he often beats professional racers with much bigger sponsors like Coca-Cola. Mateo explained that jumping to that next level of his sport and securing a big-time sponsor means competing for weeks at a time with no guarantee of a paycheck. While his dream is to get paid for cycling so he can support his family by doing what he loves, as the sole provider, it's not a risk he's willing to take.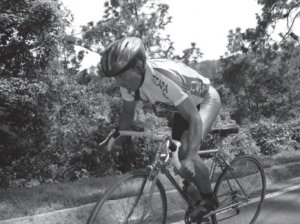 Instead, he depends on his job as a security guard. After competing in races as long as 80 Kilometers and sometimes longer, he then returns to his farm to tend the crops with his son, often without having enough food and water. During my visit to Chilmaltenango, Mateo participated in a grueling citywide race in honor of Guatemalan Independence Day. In the final miles he was sitting comfortably in the lead group. But because his 10-year-old Bianchi racing bike no longer performs as well as it once did, a mechanical problem caused him to finish fifth against a field he was sure he could beat. One of the reasons FIDESMA thought the red Rampar would be perfect for Mateo is so he could use it for getting to and from work and for training, sparing his much-used Bianchi from additional wear and tear.
While cycling is Mateo's primary means of transportation, it's his passion for his sport that's such a fitting complement to the story of our 100,000th bike. Bob Uhlendorf's old red Rampar now belongs to someone for whom cycling is a way of life in a much richer sense than we ever expected. Thank you to FIDESMA and all the people I met on my travels and for the warm welcome I received in Guatemala. This was an experience I will always carry with me.