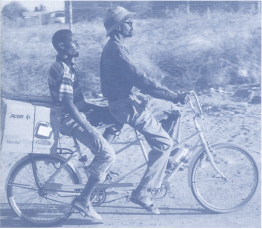 Amutenya already had a bicycle, a very old bicycle, when he first came to the Clay House Project, P4P's partner agency in Otijwarongo, Namibia. As he came riding  in, his bicycle seemed  so small under the long legs of this large man dressed in the familiar blue shirt and pants of the  Namibian laborer. Clay House was still  busy inventorying and sorting bicycles and parts from its newly arrived shipment. No sooner had Amutenya stepped off his bike and started glancing over the var­ious types of bicycles than he spotted the sole tandem in a sea of 373 bicycles. His eyes lit up. "This one is mine!" he thought, as he imagined what he could do with a bicycle with two seats, two handle­ bars, and two sets of pedals. Marcelino Castro, director of the Clay House Project, asked him where he worked. "TransNamib," he replied, re­ferring to a transport agency in the railroad station. "I work from 6 a.m. to 4 p.m. doing anything that needs to be done," he added, never taking his eyes off the yellow tandem. That very day he left a down payment to be sure no one else would get the tandem. The Clay House mechanics had not yet started to recondition this bike. Two days later the bike was ready and Amutenya was back. He paid in full the equivalent of about $100 US and proudly took off with his prize bike.
In Namibia anything more than three children in a family is considered a lot. What does one say about a very large man 51 years of age who has to care for ten, ranging in age from five to 15?! Eight of them go to school. Amutenya's wife sells candy, matches, hot beer, and fish, all from the "business" room of their two-room house. The business room is about 10 feet x 10 feet, as is the other room, where everyone sleeps. Under the corrugated zinc roof and between corrugated zinc walls temperatures rise during mid-day to over 100°F. Fortunately, they have a low tree outside, providing a shady spot where they can go to get some relief. At night when temperatures drop into the 50s, the close sleeping quarters help to keep them warm.
"On weekends I work all day driving my tandem taxi myself," Amutenya explained to Marcelino. "When I'm at work in TransNamib, my oldest son helps with the taxi business. Saturdays are best and on a really good day I can make $8 US. People see me as somewhat amusing as I wait outside the shops with my tandem. When they come out loaded with purchases, they yell, 'Taxi! How much for a ride home?'. I tell them and they get on the back seat, but they have to pedal too!"
Amutenya charges a modest fare, the equivalent of $.50 US, for a 2 or 3 km. trip. Although it's hard  work, he is happy that his taxi service has grown to pro­vide a substantial percentage of his overall income. With income earned he has even bought two bikes, much less expensive ones, for his children to use. As Amutenya goes by the Clay House shop, pedaling from the stores of Otijwarongo to the humble houses of adjacent Orwetoveni, his smiling taxi pas­sengers often wave right along with him, charmed by the ride on his yellow tandem.  There's nothing like it for miles around, perhaps in the whole country.