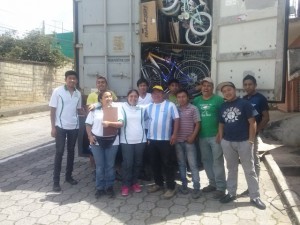 Dear David,
On behalf of the beneficiaries of bikes and the beneficiaries of social projects, thank you for your continued support. We would like to thank Pedals for Progress for all of the activities FIDESMA can accomplish with the bicycles and sewing machines.
We finished the inventory of bikes, and now began with sales of the bikes and other pending activities. Attached are photos of the container when it arrived in San Andrés Itzapa.
We also want to thank you for the the magazine you sent us, everyone is reading the magazine. We will send another letter soon to update you.
Thank you from the Members of FIDESMA.
Margarita Caté