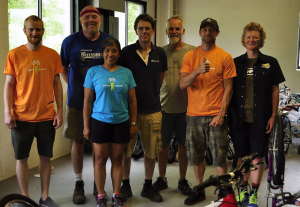 High Gear Cyclery is pleased to have partnered with Pedals for Progress (P4P), with the first load of 193 kids' bikes being readied for shipment to Guatemala in mid-June, 2014. There will be a container load of previously loved kids bikes from our NJ customers shipped to be distributed to families in Guatemala.
Bike-shop-quality kids' bikes are built to last a long time. However, kids grow up fast, and their bikes get set aside when they've outgrown them. High Gear began to offset this trend years ago when they started a Trade-up Program. These bikes now can be put to good use and provide value to customers after a child has grown out of his/her bike and can help change the lives of families here in the US and in less developed countries. When customers bring back the bike purchased at High Gear they receive a Trade-up Credit to use toward the purchase of any new bike in the store.
Over the years High Gear Cyclery has donated more than 2,000 used kids bikes to a variety of local charities This is the first time that the used bikes will be shipped overseas to change lives.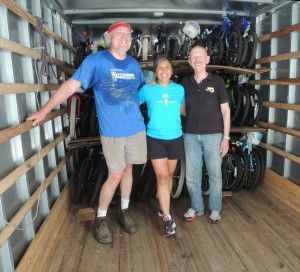 It was great luck that High Gear has a number of kids bikes and P4P was planning a shipment to a charity named FIDESMA in Guatemala for June. Given the average height of many of the Guatemalans, the 24-inch kid's bike will become an adult bike to be used by a mother or father who now can get to work to do their job and get home in time to take care of the kids, and support themselves.
Each 16- and 20-inch bicycle will go to a child who will now be able to go to school on a regular basis. With a bicycle comes a life change, ease in getting to school and more time to study or play. There are 16-inch bikes for seven, eight and nine-year-old kids who are going to use them to commute to school. The 20-inch bikes will go to older kids who may use them for a combination of work and school commuting. Of course, as a bike shop, High Gear Cyclery believes that bikes can change anyone's life. Sometimes we just don't appreciate just how much impact a bike can have on a life. The stories and success of P4P shine a new light on just how important a bike can be in someone's life and on a village and an economy.