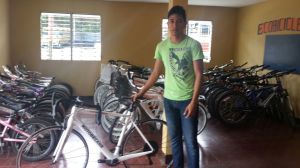 Even from the earliest days 25 years ago, not too long after we began to deliver bicycles, some young person who wants to race is hanging about, often willing to work for free just to be around bicycles. At first I really discouraged racing clubs because our real goal was income generation, workers getting to work. The love of bicycles and the love of racing have always won out. The people who work in the bike shop and the people who hang around there are always great bicycle enthusiasts.
Juan Carlos Jimenez is such a young man. 18 years old, he works in a bicycle parts shop in Rivas, Nicaragua. In his spare time he is preparing for upcoming competitions racing up and down the steep jagged foothills of western Nicaragua. Thanks to the donation of this beautiful carbon-fiber Motobecane bicycle to Pedals for Progress, Juan Carlos has an exceptionally good bike to race.
I have often been asked, Is this bike too good? No bicycle is too good. There is a purpose for every bicycle. We seek to ship the highest quality bikes possible and when we can obtain such a beautiful racing bike, there is a great demand for that bicycle overseas.