Fall 2010 InGear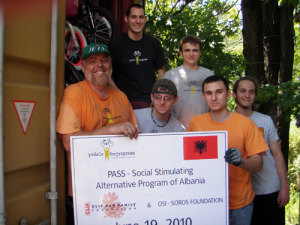 PASS (Programii Alternativave Sociale Stimuluese, Social Stimulating Alternative Programme), located in the Albanian capital city Tirana, was established in 2002 with the goal of encouraging community action and raising public awareness of local social and environmental issues. Some of their activities include operating the Welcoming Center for Families in Need, involving local residents in resolving community problems through their Volunteer Action Movement, supporting the AKSES Program to foster the education and employment of rural youth, and facilitating youth community engagement through the Civil Youth Project.
Albania is a small country, approximately the size of Maryland, on the Adriatic coast of the Balkan Peninsula. After the Second World War it was isolated from the rest of the world by a xenophobic, Stalinist government. For decades Albanians, mostly Muslim, experienced purges, economic hardship and underdevelopment, political and civil repression, and the total ban on religious observance.
Its long isolation contributed to Albania's status as one of the poorest nations in Europe. In 2008 its per capita income was less than $4000 a year and the official unemployment rate was over 12%. Remittances from Albanian workers abroad make up almost 10% of the country's economy; with the recent crises with the global financial system and with the Euro, these remittances have fallen dramatically.
PASS works with the most marginalized populations of Albania, primarily rural dwellers and ethnic minorities. These are the people who suffered most under the Communist regime and the recent decline in remittances, and who were mostly ignored by the liberalization of the past two decades. The rate of unemployment and lack of education among this population is very high.
With help from Pedals for Progress, PASS plans to establish a Tirana Community Bicycle program. Not only will this provide jobs for workers maintaining and managing the community bicycles, but the bikes themselves will help reduce the social and economic isolation of suburban and rural communities by providing dedicated transportation from the margins of Tirana to the center. An additional effect of the program will be to raise awareness among citizens of the bicycle as a fun, healthy, and environmentally sound method of transportation.