by Constantin Bandiu
Fall 2010 InGear
Pelinia is one of the largest villages in northern Moldova, with a population of over eight thousand. The main occupation for villagers is farming, which keeps most residents busy all year round. Consult-Nord was founded in 2005, with the agreement of Pelinia's citizens, to be a voluntary, independent, self-administrated, non-political organization to undertake projects for the benefit of the population of the Pelinia region as a whole.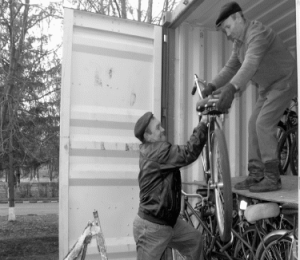 Our association's aims are to organize area youth and improve their socio-economic condition, to develop close relations with local, national, and international NGO partners, and to establish a closer partnership with the local public administration for more efficient community problem solving. We've also founded the Alliance of Community Centers of Access to Information and Training (ACCAIT), currently comprising over 100 centers across Moldova.  We are able to maintain our activities through nominal fees for our services and by fundraising from external resources.
By 2006 we were able to implement the "Local Economical Development" project. Its major aim is to eradicate local poverty and unemployment by growing Pelinia's economic sector and developing its infrastructure by organizing the resources of the community and its citizens. In 2008, due to a partnership with Pedals for Progress, the project was able to bring a container of bicycles from the United States. The aim of this initiative was to provide the bicycles at low cost to help Pelinians solve problems such as traveling around and outside the village efficiently, carrying heavy loads to and from their fields, etc.
One of our most exciting projects has been our modern Sewing Workshop. Besides the bicycles, Pedals for Progress sent us 15 sewing machines. Last summer, with the proceeds of selling some of the bicycles and with the help of the Peace Corps in Moldova, we implemented the Sewing Workshop in the village. We prepared a room with five of the sewing machines, one industrial sewing machine, and the necessary furniture. Girls from the village were taught to perform certain sewing operations such as design and making up prototypes because these are most important in dressmaking. They studied the structure of fabrics, how to take measurements, and how to use the machines. Many of the graduates bought the machines at which they learned and now work at sewing garments for themselves, their families, and others.
Today's economic crisis has affected us in Moldova, too. Nevertheless, we try to overcome this difficulty using patience and imagination. We don't wait to act, we work everyday to find a way out. For instance, we have lowered the price of our bicycles to be even more affordable for those whose incomes have been reduced and need even more assistance. We've worked to place information and even photos on our web page — in this way we've expanded the assistance we are able to provide to other parts of Moldova and even into Romania.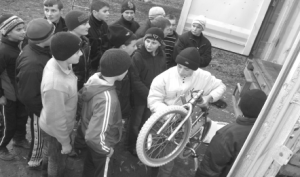 At the end of 2009, with the money we got from selling our original shipment, we had funds enough to pay for the transportation of a new container from Pedals for Progress. We have just begun to make the bicycles available to the public, but I have promised to award two prizes for the best pupils of the year 2009–10 — one pupil from the primary school and the second from the gymnasium (note: in Moldova, the primary school serves students ages 6–10, while the gymnasium serves students ages 10–15). And, of course, we are going to reward the most active volunteers in our various programs.
We are thankful to Pedals for Progress and the American people for providing us the chance to solve some of our everyday problems, like helping us move more quickly through the village and its neighborhood and helping us carry heavy loads more easily.  Also, I can't help mentioning the great help given by Peace Corps Volunteer Darren Enterline. He supported us greatly in implementing the Bikes for Everybody project and in opening the Sewing Workshop.  Thank you all ever so much for your kindness and generosity.  I wish you to be healthy and continue doing such generous charity for those who really need it so much nowadays.