by Dave Schweidenback
Spring 2008 InGear
There is no sleek air-conditioned tube when you disembark from the jet at the Tema airport. Rather, you walk down a set of circa-1950 mobile stairs to the hot tarmac, and you instantly realize you're in a third world country as the pungent smell of wood-fuel cooking stoves assaults your nose. The airport was bedecked with the red, yellow and green Ghanaian flags to celebrate Ghana's hosting the 2008 Africa Cup Football tournament. And in the distance, what looked like a thick fog was limiting visibility. It was the time of "harmattan", when dry winds from the Mediterranean envelope Ghana in a shroud of dust picked up during a 1,500-mile journey across the Sahara.
Gary Michel, Pedals for Progress's Bike Collection Manager and I met our Ghanaian colleague, Kwaku Agyemang, just outside of the terminal and jumped into the taxi waiting to bring us into the city and to WEBike headquarters, our Ghanaian partners. However, our taxi was instantly brought to a crawl as we plunged into totally gridlocked traffic. This is the permanent state of Accra's roads. At times the capital seems to have more square footage of cars than pavement. And few motorists were obeying traffic rules we take for granted here in the United States.
So it was a relief to escape the congestion of the capital on our third day there and journey into the countryside to meet recipients of the bicycles we've shipped to WEBike. As soon as we reached the edge of greater Accra, the perpetual traffic jam disappeared and we had open roads before us.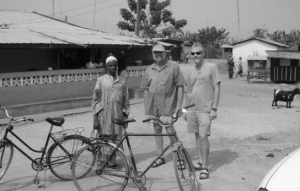 We were headed to the house of a native herbalist, or healer, Kwaku Osei. Driving along the main paved road to Oda, our driver and the operations manager of WEBike, Ada Annane, suddenly turned onto a red dirt, dusty path leading through the forest. There were no signs and no markings to indicate it was there. Our path not only seemed too small for a car, but it was only drivable because this was the middle of their dry season. Four or five miles later the path just ended, and there, a hundred feet ahead, were three mud shacks with thatched palm roofs. This was our destination. This was where Kwaku and his extended family lived.
The air was thick with the smell of a small still distilling palm wine into a much more potent brew. We sat on crude wooden benches under a palm frond roof in front of Kwaku's house. On the wall behind him hung a series of talismans that he used for treating locals who sought his healing powers for a variety of ailments. All of the bikes were out in the fields while we were there, which immediately indicated how useful they were. Kwaku confirmed this, saying the bikes had a very positive effect, helping people move more produce to markets, and giving them access to buyers they didn't have before. But it was quite clear that they needed help maintaining their bikes. As more bikes arrive in Ghana, and specifically in Kwaku's vicinity, WEBike will train a local mechanic and help establish a local bike repair shop. More bikes are needed to make such a business viable.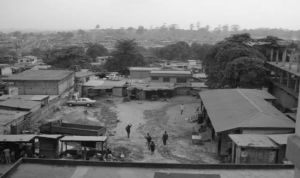 Our first day in the countryside ended with a meal of FuFu, which is pounded casava dumplings in a goat stew. Our hosts Kwaku and Ada didn't believe two white guys from New Jersey would sit and eat this traditional meal with our fingers. And although Gary, a vegetarian, avoided the meat, this turned out to be one of the best meals we had during our entire trip.
The next day, we left Kwaku and drove 200 miles from the coast to the Muslim village of Alajipapa in Ghana's plateau region. The majority of the inhabitants here are subsistence farmers tending the land of the local king, and sharing the produce with him. This system of sharecropping is still the harsh reality for many of the rural inhabitants of Ghana. Yet it's also a relatively harmonious arrangement.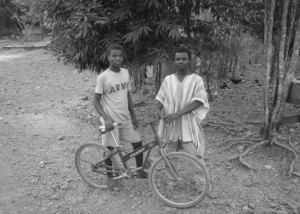 It was Friday, the Muslim holy day, and the whole community had just finished their mid-morning prayers. All of the elders came out to greet us. Dressed in their immaculately clean, holy day finery, they were a stark contrast to the poor mud huts, and red clay streets of the village. This was obviously a very poor town, but its people had a tremendous sense of pride and serious hopes for their future. As we discussed their needs and the utility of the bicycles they had received, they said they looked upon bicycles as progress, and were very interested in receiving more. The bikes were making their lives more productive. Like those in Kwaku's village, here too, the mobility of cycling helps them move much more produce than walking. The bikes they have are used collectively by the adults in the community. Ideally, they'd each have their own bike.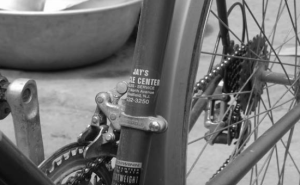 As we moved across the countryside down to Cape Coast and then back inland to Kumasi, the royal city of the Asanti Kings, we made many stops to visit our bicycles and their new owners. One such encounter was in the town of Asuman Kumansu. To get there, we drove through miles of oil palm groves and coco tree orchards—coco production for chocolate is a major cash crop—and arrived at three houses, where luckily, the owner of one of our bicycles was at home. His bike was an immaculate gray Schwinn. I knew it came through our system because there was a sticker on the seat tube advertising Jay's Bike Shop in Westfield, New Jersey. As they do every year, the Westfield Rotary Club held a bike collection last September. Did the original owner of this bike ever imagine it would become the major means of transportation for a poor family in the middle of the Asanti highlands of Ghana?
For me this is what Pedals for Progress represents. We are the link between donors in the United States who want to help the poor of the developing world. Seeing the sticker for Jay's Bike Shop brought that idea home to me loud and clear. Whoever donated that bike with the hope of changing someone's life for the better did exactly that. And I was looking at the proof.