by Ened Mato
Spring 2014 InGear
How nice it is to donate a smile! It is a grim fact that some Albanians face the indifference of passers by and the silence of fellow citizens in general. Many children are mired in a cycle of hopeless days without experiencing the joys of a real childhood and, confused, stare straight into the future without a sense of hope. Nearly 120 of these children at the Colourful Lodge and its twin centers, every day, find not only hospitality, accommodation and a warm meal, but above all the care, love and why not, the image of what they lack and miss: Home!
In the framework of the initiative which has already made possible the delivery of 100 bicycles in 10 similar centers in Albania, the New Year's holidays at the Colourful Lodge came under the rhythm of chiming bicycle bells that were donated by Ecovolis in collaboration with Pedals for Progress. Ecovolis representatives spent the holidays with these wonderful children, helping them learn to pedal the colorful bicycles that they, before, could only watch go by on the noisy thoroughfares of the capital city. The little ones learned that use of these bicycles created an excellent opportunity to secure a beautiful, clean, green and friendly environment to live in, quite different from the dusty wild roads of the city they wander every day.
This is not all. The people from Ecovolis also promised that they would work with the children every week, to continue helping them ride safely and have fun. For these children it was wonderful discovering that bicycles from Pedal for Progress were previously used by their American peers, whose stories and names were shared.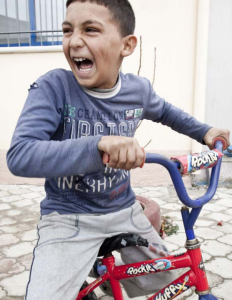 It was so miraculous to see the smile on a young boy named Zino. He was the first to learn to ride a bike and even swore that one day he would become the fastest cyclist in the world. Little Izidora, who spent the day cleaning the windshields of "four-wheels" vehicles as they call them, said that she loved the bike exactly because it did not deliver those "disgusting fumes and that disturbing noise." A child named Abel immediately began calculating the increased number of packages sold, if he was to rely on his own bike instead of his tiny legs.
One of the girls, Mira, she begged for one last ride and said she would have loved to have her own bicycle so she would have the opportunity to visit her mother during the day and show her her earnings. When she was told that there would be no "last ride" because those bicycles would be staying at the Colourful Lodge, her happiness was immense. Her felicity was shared among Adrian, Ihsira, Ledio, Daklea, Oriada, Teuta, Laert , Esdalin, Landi, Artemis, Donna and dozens of other children, whose smiles were the most precious gift for the representatives of Ecovolis. "This is one of those cases, when you start making a gift, but you are the one receiving the most wonderful gift of all. To us this great gift was the smile of these kids," Ened Mato, the Director of Ecovolis said. "Ecovolis in collaboration with Pedals for Progress is determined to continue this initiative. So far we have donated 100 bicycles in 10 centers and we are merely getting started. We will make other children smile by riding bicycles. And it's not just about entertainment, but also presenting to them the vision of a beloved city, clean, and safe, since they are precisely the ones who walk on these streets every day."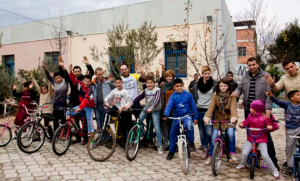 It is great discovering that besides the gift of a smile, there has been bestowed upon these children a chance for a new world view—a new, achievable dream for those who all they have had are dreams. All this from the presence of a simple bicycle. In the mean time, they are riding—and smiling—without even knowing that this may be may be a ride towards the future.