Spring 2013 InGear
Tran Thi Cam Nhung is a farmer living with her family in the Vinh Long province of southern Vietnam. Nhung and her husband, Nguyen Van Can, have two children, a five-year-old son and a thirteen-year-old daughter. Having little money, Nhung and her family have always had to work hard to make ends meet.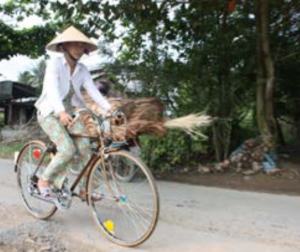 In 2009, Nhung joined the microfinance program of the Dariu Foundation, a partner with Pedals for Progress. The Dariu Foundation provides low-income families such as Nhung's with microloans to assist them in the process of generating savings. The group also offers financial services poorer families would normally not have access to, such as help with fostering basic savings skills, investment advice, and guidance toward making sure money does not go wasted.
Nhung took out several loans for the purpose of investing in her farm, on which she grows rice and various vegetables and raises animals such as pigs and chickens. Her daughter, currently in seventh grade, spends half her days at school and half at home, helping her mother on the farm by tending the crops, feeding the animals, and collecting eggs.
Although Nhung and her family work hard to grow and maintain their farm, they do not have much to work with, only owning a small plot of land. As such, Nhung and her husband Can must work whatever other jobs they are able to find to support the family.
Can works as a mason, taking construction-site positions and working at brick manufacturing plants. Nhung, too, works various labor-intensive positions, some days spending long hours harvesting in rice fields, other days gutting and cleaning fish at local fish processing operations. With the two parents working so much, their daughter must take time off from school to—in addition to working on the farm—help with house chores and pick up and look after her younger brother once he is done with kindergarten for the day.
Unfortunately, a lack of transportation limited Nhung and Can's ability to find work. They were only able to take jobs at nearby villages within walking distance and found the amount of work available in these places to be sparse. Though the entire family was pitching in, being able to travel no further than their immediately surrounding areas severely hindered whatever potential there might have been for them to create a stable income.
However, in September of 2012, out of hundreds of disadvantaged women, Tran Thi Cam Nhung was chosen to receive a used bicycle jointly donated by Pedals for Progress and the Dariu Foundation. Having the bicycle has since proven to be a great boon to the family's livelihood, helping them in every facet of their daily routine.
Now Nhung is able to make more money from her farm by transporting eggs, vegetables, chickens, and pork to the local market for sale early every morning. Afterward, her husband will ride the bike to villages farther off where more masonry work is available. The couple's income has doubled, raising their earnings from $5 to $10 per day on average—a considerable difference for a family of humble means in rural Vietnam. Furthermore, now that the couple can use their bicycle to find work more easily and make money more readily, they can gradually spend less time searching for employment and more time with their children.
This is just one story. Since 2011, the Dariu Foundation has been assisting numerous families throughout Vietnam, thus far distributing over one-thousand used bicycles, all donated by Pedals for Progress.