Fall 2010 InGear
Dear Pedals for Progress,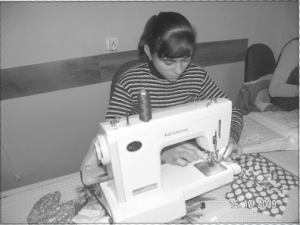 I am a 15-year-old girl from Pelinia, Moldova, and trying to choose the way of my future. Frankly speaking, I was confused and didn't know where to continue my studies. But now, after attending the "Art of Sewing" courses organized in our village by Consult-Nord, I know for sure that I will be a dressmaker. These courses were of great help to me, and my friends too. First, because we teenagers from the village are not so lucky as those from the cities, we don't have the possibilities they do. Second, the courses were free.
We were satisfied here because we have learnt a lot of interesting things starting with the fabrics' structure, taking measurements, and finishing with performing certain operations in sewing. We were given knowledge about the sewing process from start to finish. I sewed myself a nice dress and after I finished the courses my parents bought me the very machine I had worked on. I hope to make my parents happy sewing for them, too.
In conclusion, on behalf of the girls who attended the courses, I want to thank you for your kindness. I greatly appreciate you helping me reach my goals.
Pripa Elena, 9th grade student