Summer 2008 InGear
Doing good for Clif Bar begins with their responsibly made, wholesome—and rather tasty—products, and continues with their passion for giving back. Many of us at Pedals for Progress have enjoyed Clif Bars at collections, which require considerable energy, but now Clif Bar Family Foundation has provided Pedals for Progress another form of energy, if you will, in the form of a $7,000 donation to start a new project in Sierra Leone. And earlier this July, our partner in Sierra Leone received their first shipment of bikes.

After a decade of civil war, ethnic strife, and severe economic hardships, Sierra Leone has arrived at a stable and promising phase. With a population made up largely of subsistence farmers, in order to secure long-lasting peace and security, it's important that rather than merely subsist, these farmers thrive. Economic stability goes hand in hand with peacefulness. And bicycles are one means to contribute toward both conditions by developing a much needed transportation infrastructure.
Currently, in Sierra Leone, there are insufficient roadways, there's little or no public transport, and, as is the case in most developing nations, the poorest citizens must walk everywhere. Using bikes, farmers can transport goods more easily, get back and forth to their fields more often, and of course, meet their other transportation needs. When it comes to moving produce to market, it's possible for a farmer to move as much as five times what he could normally transport on foot by using his bike as a carrier. In many cases, Pedals for Progress bikes are even modified by their new owners with large baskets, racks, and even insulated boxes to carry perishable items. Such utility is indispensable in the developing world, and is ultimately the means for a family to live a decent and productive life with greater freedom and earning potential.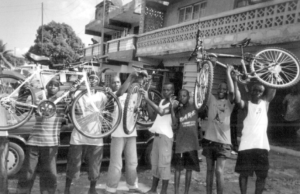 Now that Clif Bar has so generously helped get our Sierra Leone project going, more bikes will follow. With any new project, the most difficult shipment of bikes is the first one. Clif Bar has helped us and our new partner past that obstacle, and further shipments will certainly follow. With each new shipment, more people—more families!—will begin to live better lives in Sierra Leone thanks to Clif Bar's generosity.