Fall 2005 InGear
This spring Pedals for Progress sent its second shipment to the Biikira health center in Uganda. Mulamata Charles recently sent us photographs of their projects. This work is possible due to the bicycle Mr. Kiibi, the health promoter, purchased through the health center.
Dear David,
These are some of the pictures I was able to send you. I will send more as the opportunity arises. Pedals for Progress has helped a lot with the revolving fund to uplift our poor people of the village. These are hard-working people who need small seed capital to uplift themselves from the abject poverty and unhygienic life-threatening conditions they are in. Mr. Kiibi plays a major role in training these people in simple basic knowledge which is essential for a better living.
Thank you,
Best regards
Mulamata Charles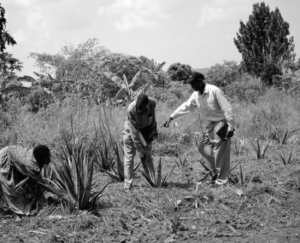 Brother Leandro (our chairman, with a hat) is seen giving advice to Mr. Kiibi near him and a woman member of the local co-op tending to an Aloe Vera plant.
This is a money-generating activity. The woman sells the seedlings at 1500 Ugandan shillings each to other members who want to plant. The Aloe Vera plant is medicinal and is in demand locally from herbalists and skin-care product manufacturers. It is also a good household remedy for many ailments, such as minor burns, scalds or cuts, scrapes and sunburns. It promotes wound healing and helps prevent infection.
A village woman demonstrates the foot-operated hand-washing equipment which is used by people under Kiibi's, care. Kiibi's household cleanliness programs have greatly improved the domestic hygiene and has reduced visits to the hospital due to ill health caused by ignorance. It is more hygienic than holding the jerrycan with hand to wash after visiting the toilet. Now the homes under Kiibi's care have clean houses, money-generating activities which include agriculture, animal husbandry, and local poultry production, etc.



Meet Bishop John Baptist Kagwa of Masaka Uganda. He is an avid bicycle rider and he says that the exercise keeps him fit and allows him to enjoy visiting his parishioners. With the arrival of the second container he bought 3 more bicycles for his priests to encourage them to exercise! He is photographed here with Sister Antonia Nakiyaga and Mr. Kamoga the driver to the sisters.