2004 InGear
For six years, Reinel Oviedo sat in a Colombian prison at the foot of the Andean Mountains, about 90 miles west of the capital of Bogota, losing hope and gaining weight. Thanks to Pedals for Progress, however, Reinel is increasingly free to spend part of his day on two wheels, away from the jail's intensely close confines, earning money for the day when he will regain his liberty.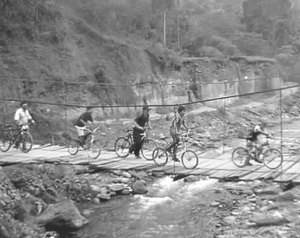 Reinel, and others like him at Colombia's Picalea Prison, have earned work-release privileges to work for Horizons of Freedom Foundation (FHL) 'Comp&Mail Messenger Service'. With bicycles provided by Pedals for Progress, inmates travel from the penitentiary to the service's headquarters and from there to the service's clients in the city of Ibagué. Reinel, who had nearly forgotten the freedom afforded by a bicycle, reports he has regained his sense of autonomy and self worth while earning an income. In his own words, "The benefits obtained have been many. Riding a bike has given me a feeling of liberty. My job has become almost a recreational activity. My physical condition has improved; the poundage put on by penitentiary food has been eliminated. Today I possess an athlete's physique. I've had to abandon my earlier cigarette vice, and physical activity during the day allows me to sleep all night, without the nightmares of before. Also, I have benefited financially, cutting my transport costs".
Pedals for Progress's involvement with FHL goes back to the summer of 2002, when FHL's founder and director, David Toro, approached P4P, requesting a container of bicycles. Toro, a former Picalea inmate, is a nationally-recognized 'social entrepreneur' and winner of a prestigious Ashoka Fellowship for social entrepreneurship. Since 2002, FHL has received two subsidized P4P shipments totalling about 900 bicycles. Besides using bicycles in its successful messenger business, FHL has launched a region-wide environmental awareness campaign centered on mass public bicycle rides, and has bartered surplus bicycles in return for training, accounting, and other services from sympathetic community development organizations.
Although FHL's program's have been successful, FHL is struggling financially, and is unable to bear the full costs of a third shipment. A principal reason FHL cannot pay the full cost of the third shipment of bicycles is Colombia's Customs Regulations, which are onerous and costly. As David Toro reported following the arrival in port of P4P's second container, "I tell you it is not easy. We have obtained the import license and duty-free exemption consent from the Ministry of Commerce and Trade, but with the Finance Ministry, it's been much more difficult. A Finance Ministry delegation from Bogota visited us at our offices in Ibagué; they requested financial statements, income tax returns, loan documents, reports, etc. It went well, but all these things have delayed their giving us a decision on the tax exemption". Furthermore, Colombian authorities require that—in exchange for partial tax exemption—FHL is prohibited from selling any bikes received, thus eliminating sales as a source of funds to pay for a subsequent shipment.
Finally, entering the country expeditiously requires a detailed inventory approved by Colombia's Ministry of Finance prior to shipment. This requirement is easy for an importer of consecutively-numbered and uniform new bicycles originating with a manufacturer, but a practical impossibility for Pedals for Progress, owing to the variability of used bicycles and limited storage capacities. As a result of these import regulations, the shipment is delayed and additional costs are incurred for port storage, fines, additional container rental charges, and extra paperwork and staff time.
To overcome this constraint, and continue to support this exceptional program, Pedals for Progress is working with the State of Kansas' Ellsworth Correctional Institute to recondition, inventory, and ship bicycles donated in Kansas to the Colombian program. Pedals for Progress is excited about promoting a prison-to-prison linkage, and about the potential psychological, vocational education, and income-generation benefits to traditionally marginalized population on both sides of the equator.
By enlisting the help of Ellsworth Correctional Institute, Pedals for Progress has been able to overcome Colombia's onerous import regulations. Unlike Pedals for Progress, with its limited storage capacity and volunteer staff, Ellsworth has plenty of volunteers and space to inventory the bikes, prepare the detailed listing required by Colombian Custom Regulations, and can store the bicycles until Colombian Customs approves the inventory for shipment.
It is these types of creative relationships that have made Pedals for Progress successful.