Fall 2001 InGear
In rural South Africa, it is not uncommon for primary and secondary school students to live many miles from their school, and to spend precious hours walking between home and academics. Few South African schools can afford to offer bus service, or board students. Given the distances to cover on foot, many promising students have little time to complete assignments and help their families. Unsurprisingly, many rural youths cannot attend school, or drop out as they get older.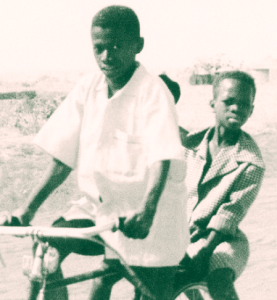 In an effort to improve school attendance in rural areas, the South African government has initiated a pilot program to distribute affordable bicycles to outstanding students, especially girls. Working with Afribike, a South African-based non-governmental organization (NGO), the National Roads Agency, and provincial transport departments, the National Department of Transportation (NDOT) has launched "Learners-on-Bikes", with the initial goal of placing 10,000 students on bicycles by mid-2002. Pedals for Progress is the major source of bicycles for this new program, while NDOT will provide $300,000 in funding to cover a portion of shipping, training, and administrative costs.
Learners-on-Bikes will enable primary and secondary school students to purchase inexpensive refurbished bicycles through a combination of cash/credit (minimum contribution of US$12) and sweat equity (assisting the refurbishment and assembly of each bicycle). While the program will exclude no academically qualifying student, it will give preference to students traveling the greatest distances to school. Afribike will offer qualifying students a training course covering the benefits and opportunities of cycling, safety and maintenance/repair issues, and environmental and health impact of cycling.
Afribike will also oversee the establishment of the local "franchises", or bicycle sales and service businesses that will refurbish the bikes. These community-owned businesses will be capitalized by bicycles and parts donated by Pedals for Progress and, in the future, other foreign sources. Each franchise receives the necessary tools and training that will see the retail operation turn into a sustainable micro-enterprise after an initial twelve-month start-up phase. Wherever possible, local women will be trained and set up as mechanics and shop managers.
Afribike will recover its initial setup investment costs, and subsequent (12-month subsidy phase) establishment cost, together with the shipping and import costs of the bicycles, from projected sales income. Each outlet/franchise will undergo periodic three-month assessments to establish its commercial viability. Close monitoring of the program will allow for strategic adjustment in the approach and also yield valuable lessons for scaling up the initiative. If successful, Afribike, in partnership with Pedals for Progress, will expand the program in 2002–2003, to a network of 80 microenterprise franchises distributing 100,000 bicycles.
For further information on the Learners-on-Wheels Program, or on Afribike in general, visit Afribike.org.