Summer 2004 InGear
Frankie Hinds, the 31-year-old lead bike mechanic for the Pinelands Creative Workshop, was a late comer to the Pinelands bike project, but it would appear that he was destined for it from early childhood. Frankie has been a resident of the Pinelands, a low-income area in Barbados, since age 6. Inspired by a cycling uncle, Frankie took early to bicycles. From his uncle, Frankie got his first bike at age 11, a hand-me-down Raleigh, and rode it constantly.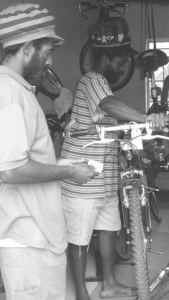 In a short time, Frankie's uncle taught him some basic bicycle repair skills, working on derailleurs and shifters. Noticing some precocious talent, his uncle challenged him to true his road bike wheels. "I told him he's crazy," said Frankie, but his uncle started at the beginning, teaching Frankie "how to spoke it", constructing a wheel from scratch. In so doing, Frankie absorbed the underlying numeric logic of spoke interaction. After all, "it's a question of numbers."
Soon Frankie was truing wheels for friends in the Pinelands area. He recalls his early days, working with bikes that were so oxidized that when he trued a wheel using his thumb as a gauge, the rust on the rim wore down his thumbnail.
Pedals for Progress bikes, at least, don't put his thumbnails to the test on a daily basis. However, they do often require some work. To satisfy local tastes, he modifies "drop bar" road bikes, substituting straight handlebars and new brake assemblies. Although the conditions under which Frankie labors are not always the best, he generally converts each bike in the space of 15 or 20 minutes. His small workspace is crowded with bikes, and lacks a truing stand and even a work stand with a clamp. To work on bikes Frankie must hang the bike by its seat on a strap attached to the ceiling. This makeshift stand is unsteady, but functional, permitting him to use both hands while making repairs.
Frankie did not come straight from the schoolyard to the bike shop, however. On leaving school, Frankie became interested in Rastafarianism and organic foods, selling natural fruit juices as a micro business. However, the competition for space in his mother's kitchen limited his production and his ability to earn a living—a recipe for frustration. Even with a small loan from the Pinelands micro-credit program, the business simply could not grow.
In early 2001, with the growth of the Pinelands bike project, an opportunity came for him to work in the shop. Frankie began truing wheels on a part-time basis, but when the regular mechanic resigned to take a job outside the cycling profession, Frankie stepped up and took his place.
Not only does Frankie have a natural mechanical talent, he has found helping others fulfilling. There is "always a joy to it." A neighbor or a customer brings in their bike in need of repair, Frankie works on the bike, and "when it leaves, you got it riding perfect."
Frankie brings this philosophy to his own bike, converting an old Schwinn one-speed cruiser into a sturdy six-speed mountain bike, with a large basket to carry his tools to and from work.
The Pinelands project receives two 40-foot container shipments and approximately 850 bikes annually. Frankie is able to handle the bike assembly and reconditioning needs of the project with the part-time mechanic assistance of Clyne Alleyne. On an informal basis, customers and young people from the neighborhood hang around and clean bikes. (Pinelands once tried to start a training program, but the first student came one day, and failed to come back the next. Frankie laments that bike mechanics, in this throw-away society, is "a dying trade".)
Although working with bikes and helping customers ride them is personally fulfilling and pays a modest salary, Frankie has other things that are important to him. He and his girlfriend have just built the shell of their new home and, once they install electricity, they plan to dedicate Sundays to cooking and selling soy-based food products, reflecting their personal values, their enjoyment of each other's company, and—hopefully—to supplement their family income. A steady job at Pinelands allows Frankie to experiment and take risks.
Not that Frankie forsakes bikes after hours. For now, Pinelands prefers not to make repair services a big part of its income stream. Customers who have purchased bikes generally can bring them back for simple free repairs, paying for parts. Pinelands management feels it is just too complicated and distracting to get into the service business. This does not mean there is not a public need, however. Frankie, who for security reasons already takes his tools home with him every day, also takes customer bikes home from time to time to repair—giving new meaning to the old expression "taking his work home with him."
Beginning in 1995, the bicycle project of Barbados' Pinelands Creative Workshop has received more than 6,000 Pedals for Progress bicycles, distributing them throughout this Caribbean island of fewer than 300,000 people. Besides providing affordable transport for recreational, educational, and employment use, Pinelands manages multiple programs benefiting the Pinelands and greater Bridgetown communities, including micro-credit, Meals on Wheels, and youth development through the performing arts.