Spring 2002 InGear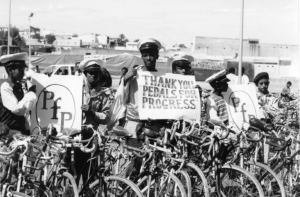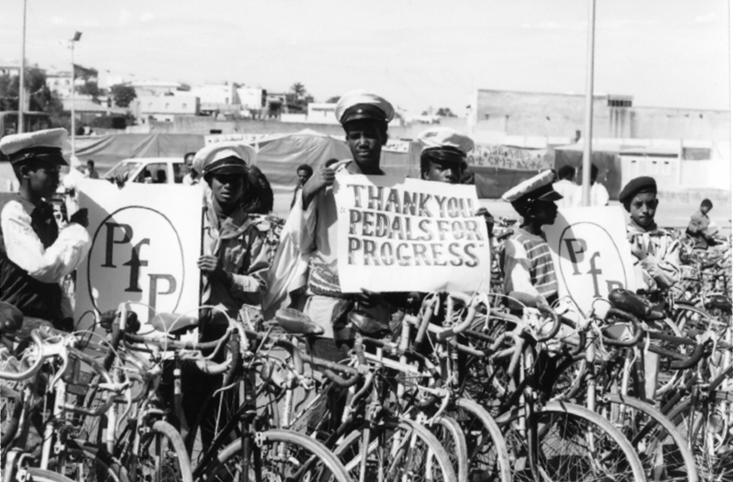 Now that the recent border war between Eritrea and Ethiopia has ended and peace has returned to the Horn of Africa, P4P has resumed donations to the Cultural Assets Rehabilitation Program (CARP), an initiative of the Eritrean Ministry of the Environment.
Two P4P containers holding 834 bicycles, financed by the Department of Defense Humanitarian Shipping Program and originating in New Jersey and northern Virginia in late February, arrived in the Eritrean capital of Asmara in May 2002. These donations build on four shipments provided by P4P during 1995 and 1996, which put postal workers, teachers, students, health workers, and small entrepreneurs on bikes.
CARP's overall goals are: protecting historical monuments and sites; conserving the environment; and supporting the development of the arts, music, and literature. With P4P assistance, CARP is now seeking to reduce air pollution in Asmara. As well as generating employment, a greater use of bicycles will reduce emissions that are harming the historical monuments.
The program is aided by the existence in Eritrea of a strong cycling culture, as bikes were introduced and widely used during the Italian occupation of the country in the late 1930s and early 1940s. Thus there is a strong demand for bikes in rebuilding the country after the recent border war, and Eritrea's earlier, long war for independence from Ethiopia. P4P is pleased to provide timely help.