EcoBicicletas ("EcoBici") is our partner in Nicaragua. EcoBicicletas is located in Rivas, Nicaragua, in the southwestern part of the country between the Pacific Ocean and Lake Nicaragua. Rivas, where we've shipped since 1992, is the oldest of our active programs, and we have sent more bikes to Nicaragua—more than 42,000—than to any other location. EcoBici is owned and managed by the Santana family, good friends as well as respected professional partners.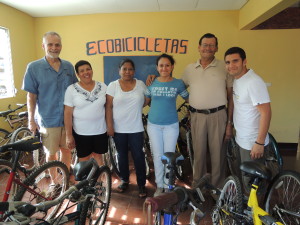 EcoBici serves low-income residents in the many small towns of the southern Pacific coast region of Nicaragua, where the terrain is flat and rolling, ideal for cyclists. EcoBici's "profits" from sales finance small-scale rural community development projects selected and implemented by representative community organizations. These have included the construction of health clinics, schools, community potable-water systems, an infant feeding center, and the planting of community wood lots. EcoBici has also donated P4P-supplied sewing machines and baseball equipment to the José María Moncada School, the Susana López Carazo School, the Nandaime Women's Center, and the Girasol Women's sewing co-op on Ometepe Island. Pedals for Progress has placed more than 35% of the adult population of Rivas on wheels, and has created a self-supporting local bicycle import, assembly, and repair business.
Click here to read more about the early days of EcoBici.
Click here to read more about Karla Santana, the one-woman operation behind EcoBici. She is second from the left in the photo; her son Carlos, who also works at EcoBici, is on the right.