[As of Summer 2017, the P4P partner in Uganda is the Mityana Open Troop Foundation. The information below refers to our previous partner, the Entrepreneurship Institute of Technology.]
Based in Kampala, the capital city of Uganda, the Entrepreneurship Institute of Technology (EIT) is a vocational institute which serves men and women who, for many reasons, could not continue their formal schooling. Our mission is to prepare them for a working life and a bright future. We offer courses in, among other things, tailoring, welding, metal fabrication, bicycle repair, and computer literacy.
In our country, private institutions are among the most important providers of vocational training, accounting for almost half of all such education. A population of skilled workers is essential for any country seeking to reduce poverty and develop an economy strong enough to provide the hope for a better future for its citizens. Vocational schools help establish, sustain, and expand the industries necessary to do this.
But in Uganda there are not enough opportunities for youth to attend quality schools. There are widely differing standards of education. Poor administration and insufficient communication between institutions and the government mean many schools have failed to gain official recognition or attention from the people whom they should be helping. And student payments are the primary means of finance for vocational schools—resulting in high fees that the majority of Ugandans cannot afford.
EIT (formerly EIAAT, Entrepreneurship Institute of Applied and Appropriate Technology) was established by directors Charles Mulamata and Joyce Kayongo, a married couple who are also involved in other businesses. Their work in metal fabrication, solar and other renewable energies, and energy-efficient stoves helps them afford to run their institute differently than other Ugandan schools.
Another difference is that EIT receives donated containers of second-hand bicycles and sewing machines from Pedals for Progress. The used bicycles are sold at low cost locally. Most of the income is then used to finance the importation of more P4P containers. The surplus money is used to finance the vocational school's administrative costs and its other development activities.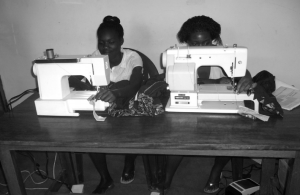 The sewing machines EIT receives from P4P are used in our school's tailoring program. A student starts on a machine and learns how to use and maintain it. Students, if interested in their particular machines, have the option to pay for them in small installments as their studies progress. Then, if at the end of the course the sewing machine is fully paid, students can take them away for their future work. In this way students not only learn tailoring but are encouraged to plan and budget for the future, and motivated to care for their sewing machines. Students are introduced, in a practical way, to entrepreneurship.
In addition to our vocational programs, the distribution of bicycles is very important for us. They are more than a means of funding for our school. The benefits to purchasers of our bikes are enormous. The bikes are sold at low price and are very useful in Uganda, as we have very poor road conditions which are sometimes impossible to navigate by car. Some of these unreachable areas are left undeveloped because the local population do not have easy means of mobility to go where services are provided, and those services cannot come to them. The increasing cost of fossil fuels also contributes to the demand for alternative means of transport. The bicycle offers easy, low cost, all-weather, all-road, on-demand transportation and is clearly one of the most appropriate technologies for a developing country.
Mission Statement
The Entrepreneurship Institute of Technology (EIT) is an adult education program. Its primary purpose is the advancement of job creation and skilled worker education. Its goals are:
To attempt to enhance the income generating capacity of the graduates through the teaching of specific technical work-related skills
To provide on going consultation in small business development to the skilled craftsmen trained
To help create more economic prosperity for the Ugandan society in general and the region at large
To offer opportunities for all to train themselves for a skilled career
To offer the pride of self-sufficiency
To acquaint the students to the various job creation opportunities available
It shall act to promote school activities and that increase the students' interest in job growth, education, personal growth and civic affairs.
It shall be non-denominational with no bias to race, religion, gender or political affiliation.
Click here for a 2011 report on EIT.