by Andra Stam–Taylor
Summer/Fall 1999 InGear
Chase Manhattan Bank is strongly committed to the communities which it serves. As part of a comprehensive corporate philanthropy initiative, one of the ways that Chase displays this commitment is through an annual October event called "Global Days of Service" (GDS). In 1998, 13,000 Chase employees, along with their friends and family, participated in 350 different projects worldwide. According to Chase Chairman Walter Shipley, "The commitment and dedication of our volunteers and their tireless energy to improve the communities in which they live and work inspires us and sets an example worth following."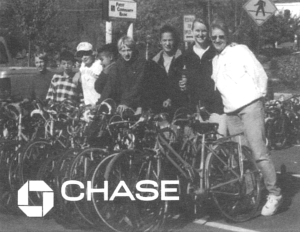 I had read about Pedals for Progress and as a Chase employee thought that a bicycle collection was an excellent tie-in with Global Days. Knowing that many GDS projects are done in conjunction with other organizations, I approached the leaders of my Church, the Church of the Holy Spirit, in Lebanon, New Jersey, regarding the possibility of adding this collection to their long list of community service projects. The Church leaders enthusiastically approved the idea, and we decided to make this the first fall project for the Rite-13 youth group, ages 13 and 14. The Youth group was shown the video stressing the mission of P4P and participated in the publicity by putting up posters and mailing posters to other churches. We received permission from Unity Bank in Clinton, New Jersey, to use their parking lot as the site for the collection.
On October 24th, 1998, 14 volunteers had a lot of fun with the project and collected 99 bicycles. Because of the excellent tie-in that P4P has with Chase's Global Days, an idea was sparked for the 1999 Global Days: "What if Chase had simultaneous bicycle collections in multiple locations gathering used bicycles for P4P?"
Although final plans are still being made, as of press time Chase will be having 5–7 P4P collections during Global Days in at least four states: Delaware, Ohio, New Jersey, and New York. In each of the selected communities, Chase employees will organize, publicize, and staff the event—not to mention donate their used bikes!