by Patricia Hamill
Fall 2015 InGear
Our long-time readers know by now that we are especially pleased when we report on having joined with new partners or on the expansion of existing programs. The day-to-day operations and successes are, of course, very important to us and all of our volunteers' efforts are important to note; but, sometimes something happens that just makes us say "Wow." This is one of those moments.
We work on website and newsletter content throughout out the year, regularly communicating with our partners and receiving updates on individuals and communities who have put the bicycles and sewing machines to use for access to employment or for starting businesses. Very often, we are thankful to post stories of families with young children that can now go to school and be properly dressed in new uniforms, and our members have read about young men and women who now have access to employment in relatively distant locations without having to leave home permanently or for many days. They have tools to make commuting and business ownership easier. This time, we have news of work for people in more advanced years, and this work is an offshoot of the initial bicycle partnership. In other words, our members', partners', and volunteers' dedicated attention has helped to create a new employment opportunity for people in Albania and, hopefully soon, many other countries.
The good word came from Ened Mato, the director of Ecovolis, a bike rental and sharing business. As readers may recall, this program is located in Tirana, Albania, and has been doing quite well. Ened just filled us in on recent events and below is his message (translated and edited, but as true to the original as possible):
The story takes place in the city of Pogradec. Lately we have had many girls coming to buy bicycles and many of them asked for baskets to go on them. Since we didn't have any, we had to go to some other shop to buy the baskets and then install them so the girls would be happier with the bikes. We saw the demand for these baskets increasing and we thought that we could help to increase someone's income by hiring them to make baskets for us. Through some contacts we had, we gave this idea to a lovely group of 5 women: Margarita Lacka, Medulie Laze, Zhaneta Murrizi, Sevasti Vako and Entela Merka. All are well above 50 years of age and interested in continuing to work or to gain work and, since they were very eager to take on the job, we thought to try having 50 baskets made and sold.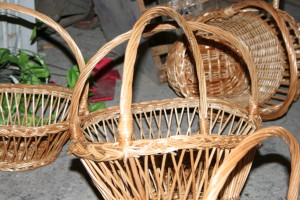 The life in the village is difficult, and whoever visits these areas knows that each family is barely getting by economically. Most families have 2 or more children, so any alternative for income that becomes available to them is received with gratitude and motivation. Each day these devoted women have to take care of their many home duties and care for their animals and plants and they still find time to work upon the baskets. Every time we have visited them we are greeted by warm smiles and hugs.
Each basket is made with a cost of 650 lek (approximately $5) and at the shop they are sold for 800 lek (approximately $6.20). We try to keep the price to a minimum in order to stimulate this initiative as a social one and not as a "for profit".
For the initial investment, a monetary sum from the bike sales was gathered and was given to them. Each day this small group creates up to 3 baskets and, for the next batches, we are working together to have more designs. Each basket comes with a pair of small leather straps for mounting. These straps come from the reuse of old leather clothes (jackets, trousers and belts). We are also trying to make the baskets even more attractive by preparing colorful ribbons around them to match the bike color. These ribbons are also made from old clothes.
We currently work with baskets mounted on the front of the bike, but we really want to have more alternatives to offer (even the double basket mounted on the back rack). We are planning to work with batches of 100 baskets and accompanying straps and ribbons. There is a growing interest from girls in Tirana for pedaling, and, if this initiative can make it more attractive to them, we will continue coming up with more like this one.
I hope this story makes you as happy as it made us.
Best wishes,
Ened Mato
Ecovolis Director