Spring 2016 InGear
My name is Percival Epeli Navolo and I reside on the beautiful tropical land known as the Fiji Islands.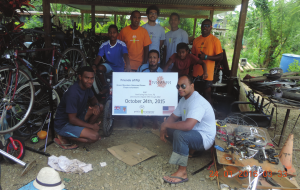 Life here on the Island has not fully modernized in certain areas compared to larger countries and many of us live day to day. Here on the Island income levels are low and many do not have the privilege of high-level education, so they cannot get good jobs. Still they have the capacity and capability of man and will power. I have involved myself in the sport of cycling for 30 years and have seen the benefits the sport brings, physically, mentally and environmentally. With the firm boosting support from the NGO organizations Pedals for Progress and Friends of Fiji, many Fijians now have a milestone opportunity to have their lives transformed.
I am formerly the president for a nationally recognised club known as the Nadi Cycling Club. We just got a 40-foot container provided by Pedals for Progress, Friends of Fiji, Green Mountain Peace Corps Volunteers, and Clif Bar Family Foundation. The container had 440 various species of bicycles and 68 perfectly operabable sewing machines.
With these materials the club can now fulfill our 3 basic goals:
Help unemployed youths avoid violence, and instead train them in the field of bike mechanics, the bicycle trade, and the development of the sport in the country.
Provide inexpensive, good-quality bicycles to low-income earners who need transportation to distant job locations. Besides giving them efficient transportation, bikes also help maintain their physical fitness.
And most importantly, advocate a more environmentally friendly mode of transportation, to lessen the release of harmful gases into the atmosphere, reducing damage to the ozone layer.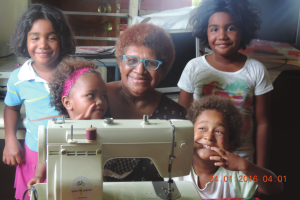 We believe that each individual effort can make a difference. We were also blessed to have the first-hand privilege of helping unemployed widows who struggle to put food on their tables to feed their little young loved ones. With a source of income, these talented ladies can now use these sewing machines and sell garments they sew. Though it may not be hundreds or millions a day, the lovely smiles of relief on their faces gave us a humble relief that it was more than enough.
So we encourage all the donors and volunteers who have contributed to making a difference in individual lives all over the world to continue their hand in creating smiles and happiness.
So from the Nadi Cycling Club here in the Fiji Islands, we would like to convey a Big Vinaka Vakalevu to Pedals for Progress, Friends of Fiji, Clif Bar Family Foundation, Green Mountain Returned Peace Corps Volunteers and all the contributors for their extensive support in helping us here in the Fiji Islands move forward towards a better tomorrow.