by Patricia Hamill
Spring 2016 InGear
When requests for donations are made, it's often assumed that any item, no matter how worn or outdated, is better than none at all. That is correct—for the most part—because old and unwanted cycles definitely can be resurrected, recycled, and repurposed. We have taken even the most well traveled bikes and turned them into viable and reliable transportation for many new owners. But here is the catch: What if the recipients have special requirements or requests? Is it enough to send what happens to be donated at a particular time and let those at the receiving end figure out how to manage from there?
The bikes we send are in good shape and ready to be purchased, so it's not like anyone has to repair anything before they get rolling. So maybe that is good enough. But who is to say what enough is? There is a story that Gloria Steinem tells about a turtle she found near a road. She was sure the turtle was in danger and in need of help. She made a point of returning it to the river it "belonged" in only to find out later that she had interfered with the turtle's arduous efforts to travel to her nesting spot. Steinem took that lesson of assumption to heart and began to apply it to all she does when she helps others. Basically she admonishes us all to "Always ask the turtle." So, we at P4P find ourselves in a similar situation except the turtle has come to us. In other words, we have found out that the concept of what is good enough is relative and our assistance is needed not just for access to jobs but to athletic ambitions that can offer opportunities for life improvement. There are recipients that know better than us what they need and we should pay attention to that.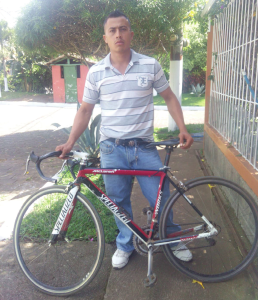 In 2014, we introduced a young man named Juan Carlos Jimenez based in Rivas, Nicaragua. The article, "For the Love of Bicycles" shares Juan's ambitions to become a competitive bicycle racer. It was the donation of a carbon fiber Motobecane bicycle that made this possible. In fact, his daily employment was in a bicycle shop, so his financial and professional aspirations were both enhanced by his association with P4P. Today we reflect on Sergio Ramos Antonio Quintero, a 25-year-old living in the Nicaraguan municipality of Diriamba. A textile worker by trade, his great interest is in racing bikes and he hopes to do this full time; but he lacks access to the kinds of cycles that can propel his goals into reality.
So far, he has participated in a number of long-distance races in Nicaragua, winning many second places and bronze medals. His ambition is to be able to have more time to hone his skills; but this means less time at the textile plant and less income. If he becomes good enough to participate consistently and, of course, win, he could merit financial backing from local sponsors. If Sergio leaves the textile mill, his spot will go to another who is in need of work. It's a winning situation for more than one person.
So, returning to the example of the turtle, we all probably should work on shifting our perceptions about who is in need and what our contributions can really do. It's not just one bike, one person. It's about the person as well and what he or she really needs. Their locations, their terrain, their employment or lack of, and their personal ambitions and desires are all part of one large equation that we may not be able to know, but we can offer the widest range of options for them to make use of. If our recipients can thrive better with high-end competition bikes, then let's make it happen! The good old cruisers have their place and it's a given that children's bikes are valued, but if you aren't spinning past the finish line these days, there is someone out there who is working hard to earn that honor!
Let's ask our activist and philanthropist selves not just who we can donate to but what they best need. If you don't know the answer, ask this turtle: P4P.