by Kwaku Agyemang
Spring 2016 InGear
[In November of 2014, P4P sent an entire 40-foot container of just spare bicycle parts to WEBike, our partner in Ghana, West Africa. These parts, valued at a little over $300,000, were a generous donation to P4P from Bell Sports. Here is a report from Kwaku Agyemang, our partner at WEBike in Ghana.]
When we got the shipment containing the bicycle spare parts, our idea was to use them to repair and service some old unusable bicycles that have been in WEBike's warehouse for some time now. These bicycles were unusable because some parts were missing or not working when the shipment arrived. Bike parts from some unusable bikes were used to repair other bikes to make them ready for dispatching, but we still had many bikes in no condition to sell or donate.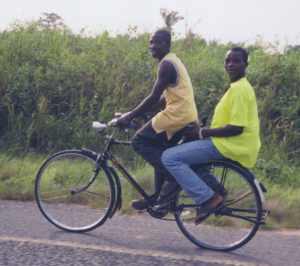 Besides using the new parts to repair the bikes in our warehouse, WEBike decided to try an additional strategy. We wanted to visit some people who already had our bikes to check the condition of their bikes. Maintaining a bike can be very expensive, so it makes sense to help with maintenance as well as with the original acquisition of the bikes.
For instance, in Walewale we visited Mr. Usifu, a student teacher. Though Mr. Usifu's bicycle was in good shape, all his tires had worn out. We gave Mr. Usifu a set of tires and tubes to get his bike back on the road. This placed a big smile on his face.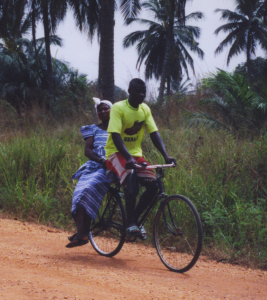 We also visited Paa Joe, an apprentice and inhabitant of Suhum in the Eastern region. We discovered that his bicycle had been unusable for some months. When asked why, Paa Joe lamented that he was the youngest apprentice in the shop where he learns his trade, and that his bicycle had been seriously abused by his master and his senior colleagues. Paa Joe further explained that because the bike was unlocked when he got to work, it was at the service of everyone at the shop and his junior position at the shop prevented him from saying a word. WEBike checked the bike carefully and gave Paa Joe a set of tires, a bell, pedals, a seat, lights and a little cash to help him fix his bike. He was also given a lock to ensure his bike was safe anytime he was at work. He was very grateful and speechless at our kindness.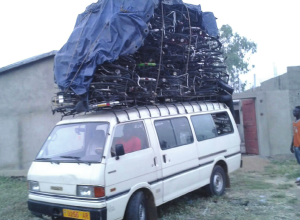 We also visited Esi, a student of Nkwanta Senior High in the Volta Region. We found Esi's bike to be functioning very well. When asked how she keeps the bike in such good shape and how she maintained it, Esi replied that the bike was her only means of getting to school on time so she had to save some of her pocket money to maintain the bike. Esi also complained that some of her own friends call her names because she refuses to offer them a ride when they ask. But she was of the view that they lived close to school and could easily get there on foot. She on the other hand had to walk for hours to get to school before the intervention of WEBikes. She further explained how much her education meant to her and that she did not want to jeopardize it. We gave Esi a pair of tires, a seat, a bell, lights and other parts to be used whenever she needs them.
In the towns we visited, we also noticed that some people who had not gotten their bikes from us were having problems with their bikes. We want to help them, too. We met Mr. Cobbla at a bicycle shop where he repairs his bike. After a chat with him we gave him a seat, a bell, and a set of tubes, which he needed to fix his bicycle. We also spotted Mr. Azuri pushing his bike to the workshop. Mr. Azuri told WEBike he had to walk for 30 minutes to the shop to fix his flat tire. We gave him set of tires and tubes to maintain his bike. He was very grateful and pleased with the organization.