Dear David,
I hope all is well with you.
Winter is on the verge in Albania as the first snow has fallen on the Dajti Mountain in Tirana. We've worked very hard during the summer at the camp in Jal with lots of young and energetic people. We've come back to Tirana full of energy, dreams and plans, as we are recognized for our leadership in improving the life of the community.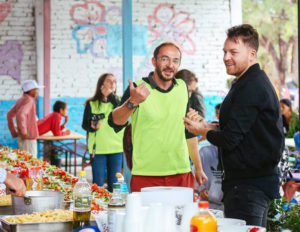 The first project we've completed is a soup kitchen in the neighborhood of Tufina in Tirana. The right to food is the basis for human rights, enshrined in conventions and constitutions, including that of the United Nations. Article 25.1 of the Universal Declaration of Human Rights states that "Everyone has the right to a standard of living adequate for the health and well-being of himself and his family, including food, clothing, housing and medical care and necessary social services, and the right to security in the event of unemployment, sickness, disability, widowhood, old age or other lack of livelihood in circumstances beyond his control."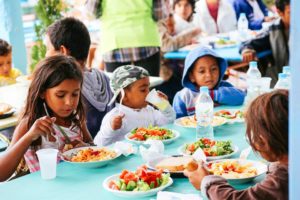 Our mission "A plate full of love" is initially to help nourish, at least twice a week, 300 members of the community using surpluses that society already has available. Eventually we hope to open the soup kitchen every day. We believe that no one should go hungry and that we have a moral obligation to assist those who need aid the most. Malnutrition causes poor health and premature deaths, and has long-term effects on wellbeing and productivity.
It was both a pleasure and a challenge building this kitchen as we had to reconstruct the whole building, build a new roof and find food. The walls were painted by volunteers as we wanted to engage them on this project as they can gain experience, confidence and a great sense of pride being part of the community.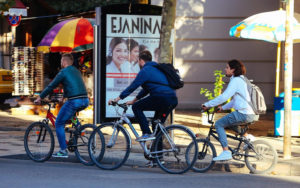 We have also launched an event called "Ecovolis has a bike for you" where we invite everyone who wants a bike but can't afford one to write to us. We receive so many letters each week and donate a bike every week to the person whose letter impressed us the most. The fact that this is a surprise event makes it that much more special.
Last but not least, the winter is on the way and we'll need other bikes to proceed with our projects as Eco Bicycle is our main source of support and the bikes from the last container from P4P are almost gone. So we were wondering when do you think you'll be able to proceed with the next shipment to Albania?
We appreciate and are deeply grateful for all your assistance. Thanks in advance!!
Best Regards,
Ened
October 12, 2016
[Click here to see the Ecovolis facebook page.]