Fall 2016 InGear
We regularly feature stories of our partners' customers whose lives have been improved by a bicycle. Here's a different kind of story: the story of a former employee of our good friends at FIDESMA, our partner in Guatemala, who hired a hard-working young man five years ago and supported him in a series of jobs of ever greater responsibility.
Byron Rodrigo Can Fernandez began working at FIDESMA at age 20. He rode a bike to work every day.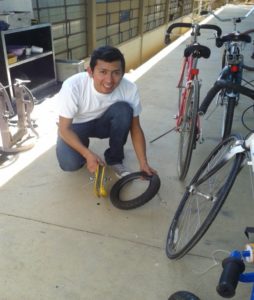 He helped at the bike shop, starting with simple repairs and maintenance and learning more and more with time: assembling, disassembling, and refurbishing bikes – all aspects of bike mechanics.
Eventually he was appointed manager of the shop, in charge of accounts and billing as well as sales and repairs.
Byron promoted bicycles through the use of social media, posters, and advertising. He promoted bikes for reasons that P4P and its partners have emphasized since the beginning: bikes provide cheap, reliable, non-polluting, efficient transportation and exercise. On a bike, you can go farther and faster than on foot, to work or to school.
Byron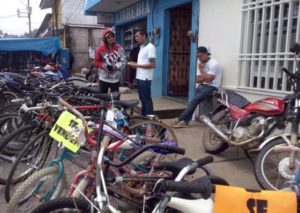 remembers how happy children were to be able to buy a bike with their own savings, how some of the riders became superb athletes in part because of their training on their bikes, how families were able to save money on transportation because they used bikes instead of taxis or buses.
Besides its bicycle operations, FIDESMA runs several other programs. In one of them, Byron taught computer skills to both students and teachers who had little or no previous experience with computers. He also helped with tech support for social projects, worked with rural communities, worked on medical outreach, and helped with job training for youth and the disabled.
Besides his work with FIDESMA, Byron continued his education in several different fields, earning credentials in industrial security, computer and industrial art, first aid, and natural and alternative medicine.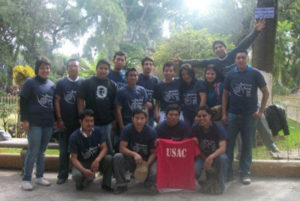 Finally, Byron attended the University of San Carlos of Guatemala, the state university of Guatemala, and in 2015 received his law degree, a most unusual and impressive accomplishment for someone from his modest circumstances. Among his areas of university study were criminal investigation, poll tax law, finance law, and protection of childhood and adolescence.
His current job is based on his law school education and is far removed from the world of bicycles. He now works for the municipality in the office of the mayor, conducting civil marriages, helping local residents negotiate government programs, and helping with municipal paperwork.
Thanks to FIDESMA for giving Byron a start in its bike shop and other programs, congratulations to Byron for his accomplishments so far, and good luck to him in a most promising future!