Fall 2016 InGear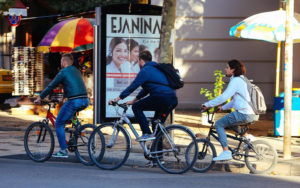 We've been providing free cycling classes for the past two years, where many young people come to learn how to ride a bike. We notice more and more young people come each week. And riders improve as the weeks go by. Each week we are inspired to persist in changing our daily lives and the traffic of Tirana. We're glad to inform you that we've used several of the bikes for the activities we've organized, hence changing the lives of those who only dreamed of learning to ride a bike. We are pleased to see our former students riding on city streets. The number of bike riders has tripled and all this thanks to the "Bike Academy".
Bike Tours
We travel by bikes every Saturday to various destinations, thus traveling several miles while discovering, cleaning, and promoting different attractions on the outskirts of Tirana. We are grateful for the bikes you've donated because it is through those bikes that the young people are provided the opportunity to become part of these travels since they don't possess a bike of their own. The bike trips have brought us closer to the people who need us the most and more conscious of the distinctive issues the suburbs face.
Bicycle Essay Contest
We often organize a literary contest consisting of a bike essay and award the winner one of the bikes you have provided. The main purpose of this contest is to raise awareness of citizens, artists, and bike lovers through literary expression, with the main topic being the ecological two-wheeled vehicle. The aim of this competition is to assess everyone, be they young or old, be they writers or artists, who want or need to express themselves regarding the bikes.