Fall 2016 InStitch
Pedals for Progress has a new partner in Tanzania: the Tanzania Women and Youth Development Society (TWYDS). The foundation is a non-governmental, non-profit organization founded in 1994 in Dar es Salaam, Tanzania, West Africa. TWYDS has programs in education, health, business, agriculture, natural resources, and policy advocacy.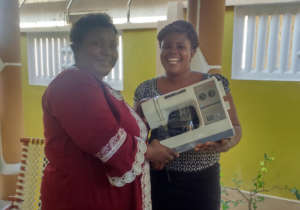 In June 2016, with the generous support of the Jack & Pauline Freeman Foundation, we shipped 74 sewing machines to TWYDS. They will offer training in the use and maintenance of the sewing machines and then distribute the machines to the people they've trained with the goal of improving their standard of living.
P4P picks partners based not only on their sewing machine or bicycle programs, but also on their other projects in their communities. Our partners often focus, for example, on education, business, or the environment. TWYDS has programs in all these areas. But from TWYDS we hear stories we do not hear from our other partners. TWYDS founder Sophia Mwakagenda has more than once been called on to rescue girls from underage marriages. These marriages are illegal in Tanzania but still occur because of tradition and because of the poverty of the girls' parents. In April 2016 Sophia was approached by the mother of an 11-year-old Masai girl who, for 16 goats, had been sold into marriage to a 75-year-old man. With the help of the police, Sophia had the girl released from the arrangement and brought back to school. (Click here to see the story from the Sunflower Foundation.)
We welcome the Tanzania Women and Youth Development Society as a new P4P partner. Good luck with the Sewing Peace project and all your other excellent work.