Depending on our inventory and funding, Pedals for Progress / Sewing Peace is always looking for new partners. A good place to look is at the Convention of Laureates of the European Environment Foundation (EEF) in Freiburg, Germany. As an EEF Laureate, Dave attended the 2nd International Convention of Environmental Laureates in 2013. It was there that Dave met Samson Tsegaye, Ethiopia Country Director for the Solar Energy Foundation, a German NGO that installs solar systems in rural areas in Africa.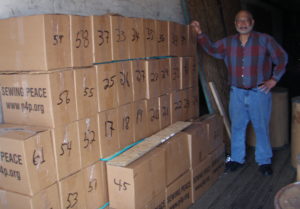 Samson has made a proposal to the Solar Energy Foundation: with the help of Sewing Peace, he plans to train and equip 70 women to set up their own sewing businesses. The women to be chosen for the program are widows, orphans, single mothers, or from other at-risk groups. The women will get three months of training in sewing and tailoring. The program will pay travel costs plus provide food and housing during the training. Trainees who complete the program will get a sewing machine, with the understanding that they will use it to set up a sustainable small business.


Samson's proposal sounds perfect for Sewing Peace, so we agreed to supply the sewing machines and accept a new program partner. We were able to help because of financial support from two of our generous donors: thanks so much to the Clif Bar Family Foundation and the Jack & Pauline Freeman Foundation.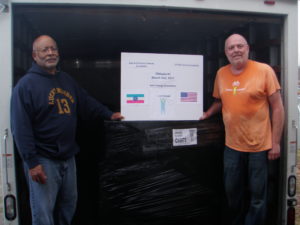 Because this is our first shipment to Ethiopia, we expected a learning experience, and we got one! Import laws vary wildly and inexplicably by country. The Ethiopian Revenues and Customs authority demanded information for each machine. So Robert and Dave opened 72 boxed machines, removed them from the boxes, recorded the make, model and serial numbers, and then repackaged them. Our new Tinkerer, Simon, went online with that information to find the dates of manufacture, also required. After we supplied that first batch of information, Ethiopian Customs decided that we also had to include country of manufacture. Simon signed up to refurbish sewing machines, not to deal with government red tape, but he went back online, beyond the call of duty, to get information on country of manufacture for each machine. Let's hope that's the last of the delays.
The 72 machines are now on their way to Ethiopia. When we get new information, we will report back.