Dear David,
I wish you and your organization the best. We have been engaged in several important campaigns.
After four years, supported by money we earned by selling shopping bags we made with P4P sewing machines, we won an important battle against plastic garbage. YES! Now even people in Albania are paying a modest fee for plastic bags. This has created an even larger market for our bags. Another mission accomplished together: PASS & P4P!
The project of the Albanian Bicycle is taking life. So far we have produced 50 bicycle frames, 100% Albanian.These bikes fill different roles than the excellent bicycles we get from P4P. The Albanian bikes we are building are cargo bikes, taxi bikes, coffee bikes, etc. For each bike sold we are still planting 10 trees. ☺
We are also very interested in solar panels. We are highly active in environmental issues and have implemented several projects involving solar energy. We would like to continue our mission to promote clean energies.
LibrAria
We opened a children's library we call LibrAria in the Grand Park of Tirana. About 5000 children per month visit us there. With the generous help of a local publishing house, we offer children's books for no charge. Besides books, we also offer musical instruments – guitars and percussion – that the kids can play in the park. On Mondays we have a flutist who gives free lessons.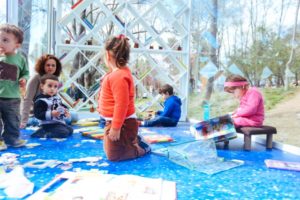 We invented games that give the kids a better appreciation of nature. For example, on the Island of Little Robinson Crusoe we asked the children to think about how they would survive, how they could sustain themselves, if they had to live outside. Another time we started the Odyssey island project and the children helped build a small boat to get to the island. A third time we created the Island of Indian Tents. We always have colors and paints that the kids use in the projects.
On Saturday evenings we bring in a piano and invite adults to listen to the music and enjoy a glass of wine. We've also had some fantastic music from Trio Bonae, who play classical music for violin, cello, and contrabass.
So we're outside in the park with the children, their parents, and the lake, books, trees, tents, and games. We feel so good about this project.
THANK YOU for your hard work and for everything P4P has done for Albania and for our organization. We wish you only the best in the future!
Sincerely,
Ened Mato
[Check out this one-minute video of a dance party with PASS making fabric bags using P4P sewing machines.]