Summer 2017 InGear
The teacher, as would be widely agreed, plays an invigorating role in the nurture of a human being. It is for this reason that teachers ought to be given apt remuneration and motivation for their services.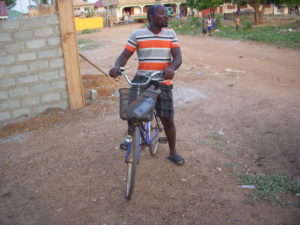 Teachers in rural areas like the Northern Region of Ghana have particular needs, and bicycles play a vital role in their lives.
A teacher who teaches up north and does not possess a bicycle is like a farmer going to the farm without a machete. Not to make a storm in a tea cup, but anyone who has lived in the rural northern part of Ghana could attest to the fact that living there can be very cumbersome.
In some places a teacher can get to school on time only by commercial bus. But in some areas the bus operates only once a day. Having a bicycle is a much more reliable means of transportation.
The bicycle is therefore invaluable in the life of the rural teacher.