Summer 2017 InGear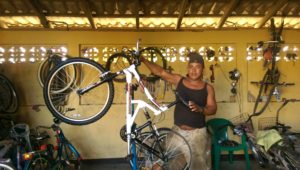 Alexander Mora was born in Tola, Nicaragua, eight miles west of the town of Rivas, home of our P4P partner EcoBici.
Alexander has been interested in bikes since he was 10. From a very young age he learned bike repair from Guadalupe, the former lead mechanic at the Ensembladora de Bicicletas, the EcoBici bike shop. Guadalupe taught Alexander everything about repair and maintenance of bicycles: lubrication, wheel alignment, cable replacement, …
When Alexander got his first 20-inch bike he became even more interested in bike repair.
When he was 23 an Atlas bicycle came into the shop from a Señor Miguel Ríos. Señor Rios used to deliver newspapers in Rivas on his Atlas. Señor Ríos passed away but his son gave the Atlas to Alexander. Alexander still has this bike.
After he got the Atlas, Alexander would ride it from Rivas to Tola. From Tola he would ride another five miles to the village of Gasper García to repair taxi trikes. Overall, Alexander maintains about 100 of these bike taxis.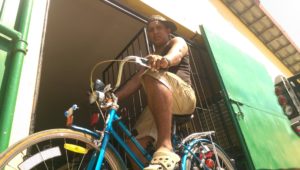 After work he would ride a few more miles to the Pacific coast for fish and whatever else he could find. To survive he would carry a machete, a liter container of water, and a pump and patches for tire-repair.
In 2011, Alexander met Joaquino Bando and they met Carlos Santana at EcoBici. They began to assemble beach cruiser bikes.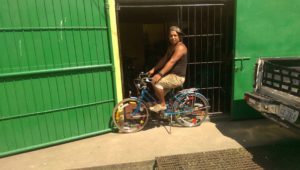 Alexander seemed different from other workers. He worked closely with Carlos. Then when head mechanic Don Lorenzo retired, Alexander joined the EcoBici permanent staff, earning a fixed salary. He works on new and used bikes, and has become one of the best bike mechanics in the country.
Alexander now restores badly damaged used bikes, making them almost like new. Besides the Atlas, he has restored a classic 24-inch bike that he uses to run errands for EcoBici: making bank deposits or doing anything else we need him to do. Alexander has great skill as a bike mechanic and has been an excellent addition to the staff at EcoBici.