Dear Friends of P4P & SP,
Welcome to our first digital newsletter! With this format we can bring you much more information because we're not constrained to a set number of pages. We will also save the significant cost of postage, which we can then use for our core mission of collecting and shipping income-generating potential around the world.
150,000 bikes shipped! That sure is a lot of opportunity for a heck of a lot of people, and let's not forget the 3,700+ sewing machines we have distributed worldwide. We remain true to our original mission of proper recycling here in the U.S. for the benefit of motivated people worldwide who want a better life and are willing to work for it.
We should also give a shout out to our most amazing partners overseas, for it is those overseas partners who are responsible for the distribution. They are also responsible for finding and writing these incredible success stories that we bring you in our newsletters. We have always felt that it is important that we supply firsthand accurate stories to you the supporters of P4P so you can judge the effectiveness of our programs.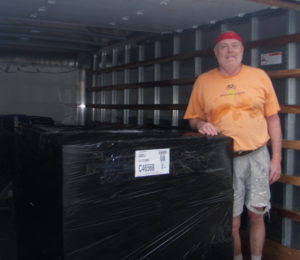 Now 26 years old, P4P has survived many turns up and down in the economy, but we have managed to stay in business because of your support. We have also managed to stay in business because of the incredible staff, some of whom right now as I write this on a Saturday in May, are standing out in the pouring rain processing bicycles. And next weekend they will be in a steel container packing those bicycles in 100º heat! P4P puts an incredible amount of sweat equity into every shipment. From Granby, Connecticut, to Gettysburg, Pennsylvania, and from Westchester, New York, down to Middletown, Delaware, our staff covers a very large domestic footprint on a shoestring budget. It is always hard physical work moving tons of bicycles but Gary always seems to do it with a smile.
I hope you enjoy both InGear (PDF, HTML) and InStitch (PDF, HTML). These stories certainly inspire us to work a little harder pushing production higher so that we can offer opportunity to an increasing number of people every year.
Sincerely,
David Schweidenback