The Summer 2017 InGear newsletter has some reflections and a partial report on bike number 150,000; the report was partial because at publication time we had collected, packed, and shipped the bike, but it was not yet at its final destination. Here's the whole story.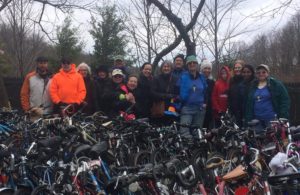 Collected
On April 1, 2017, the Long Island Returned Peace Corps Volunteers collected P4P bike number 150,000.
Shipped
On April 22nd, volunteers from the Warren Hills High School Chess Club helped us load 575 bicycles into a 40-foot container bound for Chimaltenango, Guatemala. This was our 18th shipment to FIDESMA, for a total of 9,460 bicycles.
Arrived
Our partners at FIDESMA report that bike 150,000 arrived in San Andrés Itzapa, Guatemala, at midday, June 6th.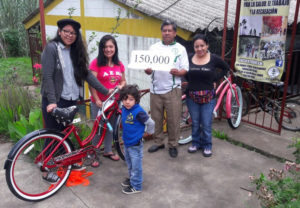 Delivered
The owner of P4P bike number 150,000 is Noelia Chiquitá, a 17-year-old in her third year of high school. Noelia lives in Chimaltenango, Guatemala.
She plans to use her bike every afternoon to buy supplies for the family store. She also helps her mother in the store in the afternoon.
The bike will also help her stay in shape and stay healthy.
Report from FIDESMA
Here is the note we got from our FIDESMA partners about the container with the bike:
Good day David,

Greetings. We hope you are well. Here is the report on container number 18, which arrived on June 6, 2017.

Thanks for thinking of us when you were ready to ship bike number 150,000. On behalf of our team and our community leaders, many thanks for your support.

Sincerely,
Margarita Cate
Arnulfo Catu
Isabel Luna
Pedro Catu
Roxana Cate
Paty Luna
Sebastian Quina
Jose David Catu
and all of us here at FIDESMA
Here is the FIDESMA inventory report from Guatemala container number 18. P4P keeps track only of adult versus kids' bikes. FIDESMA categorizes bikes in more detail than we do! And we sometimes forget that plywood, which we use in the containers to separate rows of bikes, can also be useful to our partners.

---

Bicycles

---

Mountain bikes
179
BMX bikes
253
Road bikes
31
Touring bikes
58
Tricycles
1
Tandem bikes
1
Choppers
1

---

Total
524

---

---

Accessories and Parts

---

Water bottles
7
Baskets
10
Pumps
2
Bike bags
2
Helmets
6
Plywood sheets
8
We translate the FIDESMA reports from the Spanish. In case you're wondering, the Spanish word for chopper is 'chopper'.