Fall 2017 InStitch
The Honorable Sophia Mwakagenda is a Member of the Parliament of Tanzania and the founder of the P4P/SP partner in Tanzania, the She Can Foundation. Starting in April 2016 she visited different constituencies in order to listen to the people and implement some of her She Can programs. A report from the Summer 2017 InStitch newsletter described the first part of that trip. We now have this new report on the next part of the trip: to the Chunya and Temeke regions of Tanzania.
Chunya Constituency Visit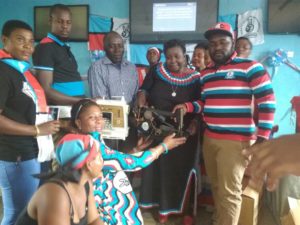 MP Mwakagenda presented two sewing machines to the Chunya Tailoring group, which is mix of women and men in Chunya constituency. They are in a joyous mood. This group started in 2007. They have about 12 sewing machines and now with the two new machines they are starting a tailoring school for girls and boys. It has 10 Members who are John Joseph, Ande Mwimba, Martina Kibali, Ndongolela Matembo, Twalangete Mwendemseke, Rehema Ambindwile, Julia Mwabenga, Mulyambate Mtagete, Jane Jansi and Asia Syabakeke. The group is an economic empowerment group for both men and women.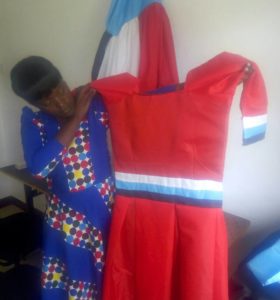 Ms. Martina Kipesile is Chairperson of the Msichana Girls Group. Ms. Kipesile, along with Christina Kalenga and other members of the group, use the five Sewing Peace machines that were distributed in the Chunya Constituency to make products that they sell. The Group also trains young women in the use of the machines.


Temeke Constituency Visit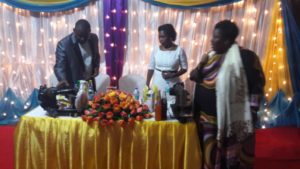 MP Mwakagenda gave a sewing machine to the women's group of the Temeke Moravian Church in Temeke Constituency. Also in the photo are the Reverend Timothy Mwankenja and Ms. Stella Sematela, Chairperson of the Women's Wing of the Church. The women's group gives food and clothes to needy people around the church. The sewing machines will increase the church income for that purpose.


Conclusion
She Can Foundation staff will follow up during November and December 2017 on the different women's groups which were given the sewing machines to see how they progress in terms of uplifting the living standards of women in the two locations. The technical staff will give the women support services to improve on their projects.