By Samson Tsegaye
Fall 2017 InStitch
Ethiopia has a population of more than 100 million. More than 85% live in rural areas. Women have most of the household responsibilities. Women and girls in Ethiopia are strongly disadvantaged compared to boys and men in several respects, including literacy, health, livelihood, and basic human rights. They also suffer from low status in their society and lack social support networks.
Since 2005, we at Stiftung Solarenergie-Solar Energy Foundation are trying to solve some of these problems in Ethiopia by providing solar technologies.
When I met Mr. David and he explained what Sewing Peace (SP) is doing, I was very impressed and asked him to support our disadvantaged women in Ethiopia. He agreed and we started the procedure.
Sewing Peace promised to donate 72 sewing machines and we at the foundation promised to provide training and disbursement of the machines. We will select disadvantaged women to train and give them one sewing machine to generate income and improve their lives. Here is our complete proposal.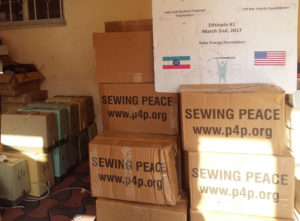 The process of importing the sewing machines to Ethiopia was very tiresome. Several times our customs and government offices requested new, authenticated documents from SP and required getting these documents from New Jersey to the Ethiopian embassy in Washington, D.C., to Ethiopia. For each machine, first they requested serial numbers, and then they requested date and place of manufacture. The process was complicated and expensive, but Mr. David made it happen — we received 72 sewing machines in Ethiopia on 24 July 2017. I would like to appreciate and thank Mr. David for his patience with the long, complicated import process.
We are now waiting for the training of the women and disbursement of sewing machines. But, due to the current political problems in the country, we couldn't proceed according to our plans. Travelling out of town is difficult. We hope that this situation will be better soon and we will proceed with our programs.
We will soon finalize our project and will report in detail to Sewing Peace.
Best Regards,
Samson Tsegaye, Stiftung Solarenergie-Solar Energy Foundation Country Director
17-Nov-2017
Addis Ababa,Ethiopia