Greetings
Guest of Honor Owekitiibwa Abraham Luzzi
Director Basic Education Ministry Of Education & sports, Mr. Nsumba Lyazzi Robinson
Vocational Chancellor
RDC
Mayor
Madison Ardizz & Mr. Nino Ardizzi
All invited Guests, ladies & gentlemen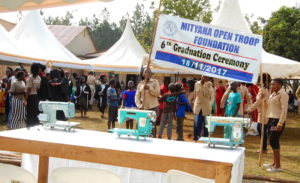 With great pleasure, I take this opportunity to welcome the guest of honor, distinguished guests, Madison and Dad Nino Ardison from Canada, at our Sixth Vocational graduation ceremony, today, the 18th of November 2017.
Background: Mityana Open Troop foundation  was registered as a Community based organization and was started by a group of scouts  who had been affected by socio-economic factors and the HIV/AIDS scourge.
Later in 2007, we found it important to start offering sustainable vocational training to vulnerable youth, school dropouts, and youths unemployed due to lack of job skills. The training included hair dressing and weaving, carpentry and joinery, motor vehicle mechanics, and tailoring & fashion.
The training lasts for two years. Graduates get certificates and start-up tools to enable them to start jobs and workshops right away in their own communities.
Organization leadership:
Chancellor: Mr. Joel Lugoloobi
Patron:  Ssempala Julius
Vice chairman Board of Directors: Conc. Robert Musisi
Board Members: Rev. Balamu Mukwaya 
Mrs. Oliver Mukwaya
Chief adviser Mr. Ssekandi Kakembo
Chaplain:  Rev. Lukabwe
Principal: Mr. Yawe Mathew
Instructors:
M/s  Margaret Yiga (Hair dressing)
M/s Nanteza Nuulu (Hair dressing)
Edith Nakabaale (Tailoring)
Mr. Kawuma Flobius (Tailoring)
Ssalongo Ferdinand Nsubuga. (Maths, Luganda, & English)
Engineer Ssetenda (Motor mechanics)
Conc. Robert Musisi (Motor mechanics)
Mr. Muyanja (Carpentry)
Mr. Bukenya (Electrical)
Achievements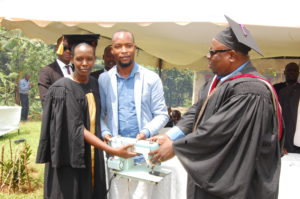 This is our sixth graduation ceremony.
The government of Uganda, through its Ministry of Education, supports our vocational project by giving funds for the instructors. The small fee we charge trainees caters for electricity, maintenance, and feeding, which is expensive.
We registered the vocational project under the Uganda Ministry of Education.
Kolping Mityana Womens project supports our project by sponsoring 10 orphans.
Three Charity organizations — Fields of Life, Africa Renewal Ministries, and Unbound — sponsor some vulnerable children at our project.
With support from profits got from the sold sewing machines from Pedals For  Progress / Sewing Peace Project USA, plus some funds donated from Dr. Knight Anthony of Tools With a  Mission UK, enable us  construct the Girls dormitory which is to accommodate 50 students.
We have been provided with educational seminars by hair beauty companies such as Movit and Darling.
Pedals for Progress donates sewing machines and bicycles to our project, which have up-lifted and supported many of our activities.
Carried out voluntary community work by cleaning and sweeping Mityana Central market, Taxi park, and surrounding streets.
Volunteered in making hair dressing & weaving , sewing clothes for police ladies and police men Of Mityana Police station, at free cost. However, we carry out good turn in communities, as scouts.
Appreciations
We thank very much the government of Uganda for supporting our vocational project by paying for the training of vulnerable unemployed youth.
Thanks go to the Principal Secretary BTVET, Mr. Patrick Byakatonda, for having considered and supported our project and benefits from the Government program.
We extend our sincere thanks to Pedals For Progress / Sewing Peace USA, which is headed by Mr. David Schewidenback, who provides us sewing machines, and even made 'Me' their Uganda Representatives / Coordinator.
We thank hair-dressing companies and charities sponsoring orphans at our project.
We extend many thanks to Mr. Chris Eldridge of the UK, who has done so much in financing sewing machine shipping and some of our project activities.
Finally thanks very much M/s Madison Ardizz and Dad Nino Ardizz, for visiting and being with us at our sixth graduation ceremony. Please thank you we love you so much.
Challenges
We have insufficient classrooms at the project; the majority of the trainees study under tree shelters and shades. It becomes worse if it rains because there is nowhere to go!
Trainees fail to pay the little we ask them to pay at the project, which affects project activities like feeding them!
We lack enough seats in our workshops.
It is still a challenge to pay for shipping sewing machines and bikes from the USA to Uganda.
The newly constructed hostel is not big enough to accommodate the number of trainees we have at the project.
We lack clean water and piped water at our project. Contaminated water has affected the cooking, washing, and even the lives of our trainees, as they get skin diseases and stomach diseases including typhoid every academic term!
God Bless You Always.
Mathew Yawe, Principal, Mityana Open Troop Foundation