Saturday, May 28th, 2011
An extremely satisfying day,  Today P4P loaded 523 bikes in our second shipment ever for Albania, formerly the worlds most isolated country.   This shipment of used bikes and almost as importantly a vast array of parts and accessories donated by Easton Bell Sports will serve to supplement the Albanian Public Bike Service which was initiated with the first shipment last year.  P4P bikes are painted bright red and are available to the general public all around Tirane.  This program has been tried before, most notably in Amsterdam, and the key for success has always been that someone is responsible for the maintenance of the bicycles.  Our partner, Programi I Alternativav Sociale Stimuluese (PASS)  has set up 4 separate stations, each employing 2  employees serving as Customer Service to keep the bikes in good repair.
Also included in the shipment is about 35 new children's helmets donated by Kent Bicycle Company.  PASS has donated the smaller children's bicycles in the first shipment to the Roma Children's Schools, where the very young are taught to ride and learn to enjoy biking as part of the curriculum.  They will now be able to do that more safely due to the generosity of Kent Bicycle Company.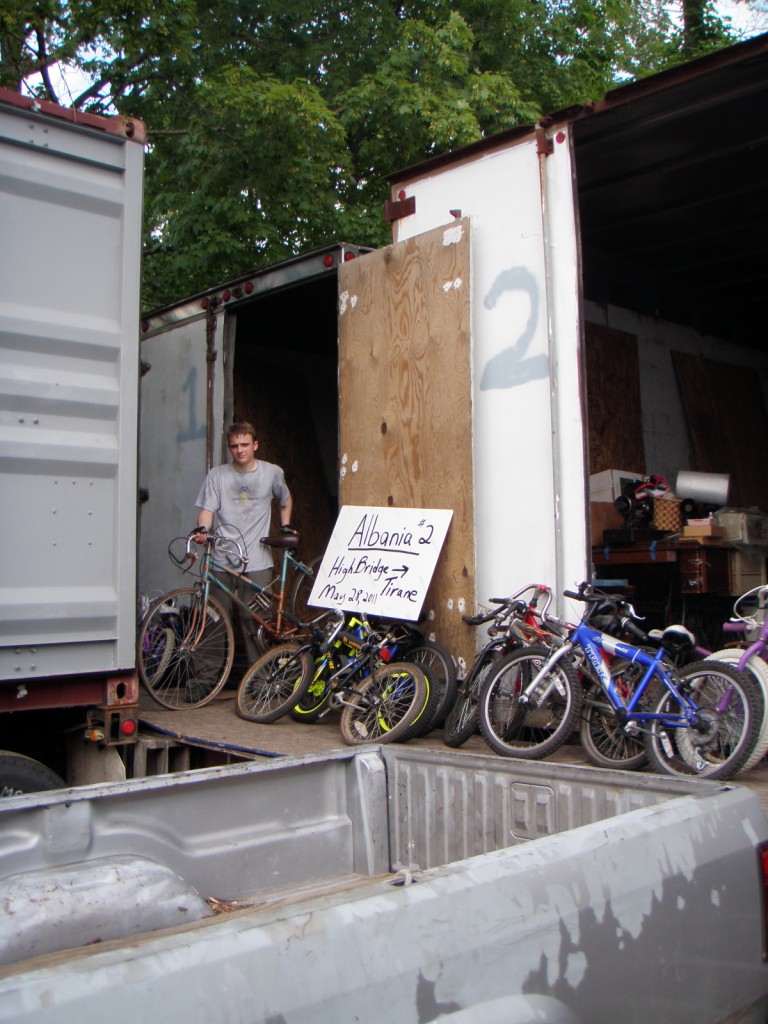 P4P is very pleased that we have been able to continue to support PASS with this second shipment which, as with the first shipment last year, could not have been possible without the financial assistance of the Soros Foundation, which generously contributed to the transportation costs.
For years P4P focused primarily on Central America and Africa, yet there is the same need in many other places around the world.  We are maintaining our programs there but have broadened our reach by adding Eastern European programs and most recently Vietnam.  For P4P, need is sufficient to request our assistance, we have long had a policy of helping in many areas around the world, not just one country or region.
We are so pleased to announce this shipment, as the second shipment to a program is the true mark of success and we hope to continue to sending bikes to PASS for many years to come…of course, with your help and donations.  I hope all of you who have aided P4P in collecting these bikes are as proud as we are of the milestone of a 2nd shipment of aid directly to the Roma people from concerned Americans