by Liz Deppe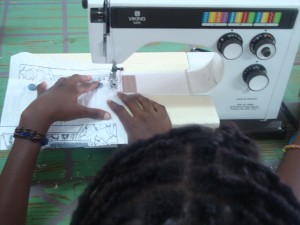 The gracious donation of 20 sewing machines from P4P to the Barrouallie Secondary School in St. Vincent has opened many doors for many students. We have been able to integrate sewing into the school art curriculum, which allows students to learn a new skill which they can carry through their entire lives. Although the program has just started, it is obvious that many students will use and grow their sewing skills as time goes on, it may even (hopefully!) open job opportunities for some.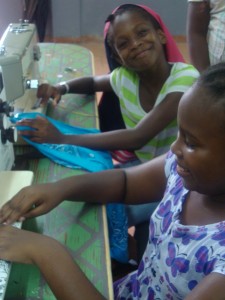 We have also been able to use the sewing machines in extra curricular settings. The younger students have enjoyed making projects during 4H. They not only learned how to sew, but created various projects out of fused plastic bags, learning the value of recycling. This was the first project we did using the sewing machines with the younger students and it was a great success. The machines were also used at a summer camp, where the campers created bags out of old flour sacks once again learning sewing skills and the values of recycling.
I cannot begin to thank David and P4P for the kind generosity. The students' excitement and eagerness has guided our program to a wonderful start. I cannot wait to see how it grows! Thank you David & Pedals for Progress!
Liz Deppe
U.S. Peace Corps Volunteer
St. Vincent and the Grenadines
2011-2013