In the developing world, in the hands of someone who knows how to use one, a sewing machine means instant income. The following two profiles are fairly typical examples of how sewing machines help people in the developing world, whether in Latin America, Africa, or Eastern Europe.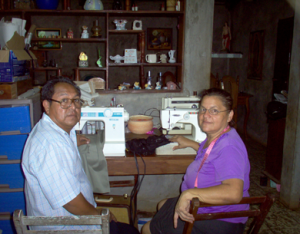 Juan Carlos and Migdalia Dávila
For years, Juan Carlos Dávila worked by day as a receptionist at a private institution in Jinotepe. His wife, Migdalia, is a skilled seamstress. At night, he helped her with the sewing to earn extra money for their family.
His receptionist salary was barely enough for them and their 11-year-old son to get by on. As their tailoring business grew, it was their hope that one day they could come to depend on it as their sole income. But a second sewing machine, a new one, was far too costly.
In November 2008, Juan Carlos was suddenly laid off from his receptionist job. Today, he and Migdalia survive because they can both sew, and because they were able to get a second sewing machine from Pedals for Progress through our partner organization Ecobicicletas Rivas. Today at their tailor shop, they make men's suits, women's dresses, curtains, table linens, and they are currently searching for an employee or two to expand their business.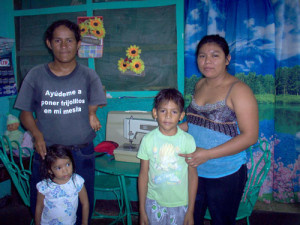 Elvis Cruz
Elvis Cruz is 25 years old and from Managua, Nicaragua. He was born disabled; both of his arms are severely deformed. While this provided certain challenges, it hasn't kept Elvis from working, playing baseball, or otherwise living a full life. Married with two young children, Elvis works as a flagman directing traffic in Managua. But his income wasn't enough to adequately support his family. After making a public appeal on a local TV show for the opportunity to earn more money, his wife received a sewing machine from one of our partners. A talented seamstress, now she works from their home earning extra income for their family.