by Darren Enterline, Peace Corps Volunteer
Fall 2009 InGear
Few people outside of Europe have ever heard of the Republic of Moldova. What those few usually do know is that the former Soviet Republic has the dubious distinction of consistently being the poorest nation in Europe. While many of the former Soviet-controlled states have thrived as independent democracies, Moldova has never been able to progress out of the political chaos of the early 1990s and the economic crises that followed. In 2008 the United Nations Human Development Report ranked Moldova 113th out of 179 nations, between Mongolia and Vietnam.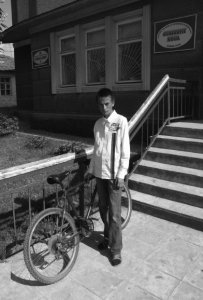 The failure of the Moldovan government to transition from a communist Soviet Republic to an independent capitalist democracy means that much of the population currently lives in poverty. While the capital, Chisinau, and larger cities have recently shown signs of economic recovery, the countryside still suffers greatly. The rural village where Pedals for Progress's partner organization is located is no exception. Pelinia, never a wealthy village, once supported industries such as brick manufacturing and food canning until the collapse of the Soviet Union. The ensuing privatization of state industries brought an end to those enterprises that couldn't survive the new market economy. Today, most villagers in Pelinia support themselves by farming the small plots of land given to them after the collective Soviet farms were privatized in 1996. Many depend solely on these plots, approximately 4 to 10 acres, for both their food and income. Oftentimes, these plots are several kilometers outside the village forcing villagers to use valuable time travelling to and from their land. To make matters worse, the roads used to reach the plots are unpaved and deeply rutted, making it slow going for the ancient cars and horse carts that use them.
Because so many people are involved in small-scale, low-income farming, the local government is chronically underfunded and unable to provide even the most basic services. Few houses have running water, making it necessary for many to walk to public wells to retrieve their water. Gas is also only available to a few households and is too expensive for many to use. Those that can't afford to buy wood or coal must travel outside the village to collect their own wood in order to heat their homes during the winter. Although Pelinia is a large village of over 8000 inhabitants, it is too small to offer public transportation. Villagers must provide their own means to travel to stores, markets and schools on roads that are not much better than the ones outside of the village. Basically, the villagers of Pelinia endure the same difficulties that impoverished people all over the world endure.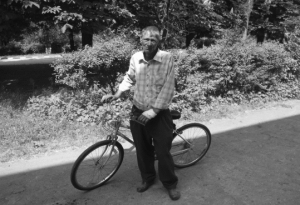 While these hardships are debilitating, they are not impossible to overcome and Pedals for Progress offers one of the best ways to assist the villagers of Pelinia. Consult-Nord, a local Moldovan NGO established to promote local economic development in Pelinia, saw the potential results that Pedals for Progress's bicycles could provide and requested to become a partner. Consult-Nord started selling bicycles this winter after receiving a shipment in late December of last year. The good quality, affordable bicycles now available at a shop set up by Consult-Nord offer numerous opportunities to villagers that otherwise would be inaccessible to them. With a bicycle, farmers can efficiently travel to their fields and more easily transport their crops and tools. Villagers can collect water and firewood with less effort. Students can arrive at school with more energy and villagers can independently travel throughout the village. A great example of how bicycles can help the villagers of Pelinia comes from Constant Surcanu. He is a 53-year-old farmer who regularly travels outside the village to work on his land. He bought a bicycle so he can reach his fields with more time to spare and so that he can also visit his relatives living throughout the village. He told us that he especially appreciates his bicycle's wide, sturdy tires that can handle the demanding village roads. Another satisfied customer is Oleg Cerban. He is a 13-year-old student at the local middle school who bought a mountain bike so he could use it to get to school, to go on errands around the village for his family, and, of course, to visit his friends. These two examples show a few ways how bicycles can help the people of Pelinia. Simply put, bicycles in Pelinia provide what they provide to people all over the developing world, a simple means to independently better their lives.