Spring 2010 InGear
Project OKURASE, in Ghana, recently received their second container from Pedals for Progress, bringing the overall numbers shipped there to over 1,000 bicycles, 100 sewing machines, and even some soccer gear. These shipments have given a welcome boost to the Project's mission to provide skills-training and formal education to vulnerable children and women, especially those affected by HIV/AIDS.
A number of undertakings and partnerships support the Project's mission. Currently, one of the most dynamic initiatives is providing local women and children with a general education, vital job skills, and the opportunity for entrepreneurship. This is the area in which P4P has been able to most directly assist. With the bicycles received to date, the Project has been able to open two retail bike shops. The larger shop is located in the Dansoman district of Ghana's capital, Accra, allowing the bikes to be distributed to the mass of people in the city. The second shop is located in the village of Okurase. Here, in addition to the main business of getting bicycles to those in need, interested villagers can learn bike repair and also the financial skills necessary to budget for a life-changing bicycle. The village has received the bicycle program very well.
But Project OKURASE's name refers to more than just the village in which it is based. It is an acronym for the concepts its co-directors, Dr. Samuel Nkrumah Yeboah and Cynthia Cupit Swenson, PhD, see as the underpinnings of their mission: opportunity. For example, the distribution of bicycles supports this mission by helping farmers spend more time in their fields and less time in transit, by helping vendors bring more goods to market, and also by helping people from far-flung surrounding communities reach the Project's educational programs.
One of the most exciting of these educational programs is Rhion's Sewing Centre. Established in Okurase upon the arrival of the first shipment of P4P sewing machines, it not only teaches young women needlecraft but also business skills. The Project's U.S.-based volunteer creative director, Rhion Magee (who is also a creative director for DreamWorks Animation) has helped the Project design and develop marketable products handcrafted from readily-available recyclable materials. One example of what the women make and sell is an attractive and durable marketbag made of repurposed flour and rice bags. This and other products are available globally from the Project's website.
The women of Rhion's Sewing Center are also supporting one of Project OKURASE's most inspiring efforts. In a partnership with a nonprofit group in Los Angeles, they are introducing an international line of children's clothing. These clothes will be made from Ghanaian fabric, in Los Angeles, by women who are in recovery from difficult life situations. A portion of the proceeds will return to the women of Rhion's Sewing Centre so they can produce more fabrics, and also make school uniforms for orphans and impoverished children in Ghana.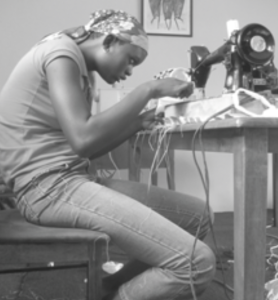 Project OKURASE has also used P4P machines in their sewing outreach program. It is simply not possible for every interested woman or child to reach a place like Rhion's Sewing Centre. So, the Project donates sewing machines to other local partner organizations. One such is the Street Children's Academy in Accra, which serves hundreds of street children in its day programs. Until they received one of P4P's sewing machines through Project OKURASE, they had not been able to offer sewing classes. Another donation was made to New Life Orphanage in the Central Region, one of Ghana's poorest districts. Several of the residents there had expressed a strong interest in learning the seamstress trade, which had hitherto been closed to them for want of training and equipment.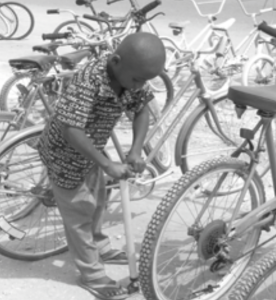 It is strong partners such as Project OKURASE that make it possible for P4P to do its overseas work. The United States is rich in equipment and resources that developing countries are desperately lacking and, with our supporters' donations, we are able to collect a considerable amount of it, new and used, for distribution overseas. But it takes local organizations in the destination countries to know how best to share out that equipment and those resources where they will do the most good. In supporting Pedals for Progress, our contributors also support the efforts of our partners, who live in those developing countries and have very real stakes in their economic development.
The people of Project OKURASE wish to give their thanks, or medaase, to Pedals for Progress and our supporters. We at P4P would like to say medaase to you as well. It would not be possible to operate without your continued assistance.