by Sam Cline, Warden
Summer 2004 InGear
The Ellsworth Correctional Facility (ECF), located in north central Kansas, houses 830 medium-security inmates. Dedicated in 1988, the ECF is located on 60 acres of ground on the northwest corner of the City of Ellsworth, Kansas.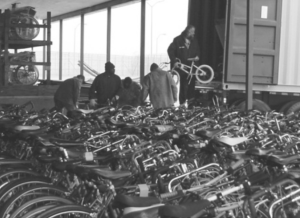 In 2001, a bicycle program was created at ECF, where donated bicycles are refurbished by inmates for distribution to less fortunate children. The distribution of these bicycles is carried out by civic organizations during the holidays. Any bicycles that don't go to the children are designated for shipment to developing countries. And that's where Pedals for Progress steps in.
The most recent shipment of ECF bicycles was in March 2004, when 446 bikes were sent to Kumasi, Ghana. This was helped along by a generous charitable donation from the Post Rock JayCees chapter, which is made up of inmates at the Ellsworth Correctional Facility. By conducting numerous fundraising events within the prison they raised enough money to subsidize the shipment.
The ECF bicycle program employs 15 inmates and provides valuable work for these men throughout the day. Their pay is provided by the State of Kansas and is not part of donated funds for the bicycle repairs. Additional supporting funds for this project come from the Ellsworth Kiwanis Club, which serves as the program's sponsoring civic group. Through the Kiwanis, necessary funds for the purchase of supplies, parts, tubes and tires are provided.
Bikes leaving ECF are among the best bikes Pedals for Progress collects. After all, these bikes receive special treatment far beyond the usual P4P bike processing. To begin with, the shop area for the ECF Bicycle program is as well organized as a professional bike shop. And the work done to each bike is very thorough. They are cleaned, lubed and tuned up, and even receive some disassembly in order to grease bearings and thoroughly clean the drive components. Worn tubes and tires are replaced with new ones. And when needed, the ECF inmates even go so far as to repaint the bikes. The bikes are made new again.
The inmates in this program are inspired by doing something that benefits others, so their productivity is very high. They also learn new skills and find the work heartening, especially when they receive news about how the bikes are being used wherever they've been shipped.
Both ECF and Pedals for Progress are very proud of the relationship that has been created through bicycles and good will. As with all P4P programs, ECF helps to prevent a valuable resource—used bikes—from becoming part the vast waste stream of America and gets these bikes to very deserving people across the world. And as an added benefit, the ECF/P4P program provides meaningful work for men seeking to improve their own lives while incarcerated.