by Jackie Johnson, Granby CT
Fall 2016 InStitch
I wrote an article for the Spring 2011 InGear that began as follows:
I was prompted to call Pedals for Progress in September of 2002 after I read a small article in Hope Magazine (long since out of business). The article told the story of Dave Schweidenback launching Pedals for Progress following his experience in the Peace Corps and referenced the 57,000 bicycles that had, at that point, been shipped to partners in sixteen countries.
So, to take you back in time a bit, it was a year beyond 9/11 and our nation was on the verge of war in the fall of 2002. I was feeling a burning need to do something positive and meaningful, ideally involving my husband and two children who were then ten and twelve. The article was so inspiring that I immediately called P4P and said I wanted to organize a collection. Despite my being further from High Bridge (in northwestern Connecticut) than any previous collection, the response was positive and I was encouraged to organize a spring collection. I ultimately spoke with Dave and explained that I really didn't want to wait until spring. He was reluctantly convinced and our first Pedals for Progress collection was held at Holcomb Farm, an arts and environmental center, in Granby, CT, on December 7, 2002. A very chilly 42 bikes were collected and processed that day by an enthusiastic group of volunteers who have shown up every year since.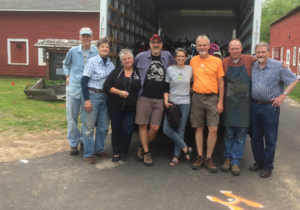 Five years from the time of that first article, we just held our 15th collection, with a grand total of over 2,000 bikes and more than 100 sewing machines collected to date. While making a difference for individuals and communities in the developing world has always been at the heart of our 15 years of collecting, there has been an unexpected benefit in the community created here at home. Many donors are moved by the opportunity to build a bridge from our small Connecticut town and to touch lives abroad and offer to help spread the word about future collections. Our dedicated group of volunteers has grown to include a long list of folks who have shared email addresses and offer to post flyers and share through social media each year. Stories shared by donors, like that of the bike of a lost and beloved daughter, the sewing machine from a mother or grandmother, have created meaningful moments and stories that have fed and inspired our group of volunteers.
This year, we welcomed two new volunteers who took the lead in coordinating the Granby collection. Kate and Rachel are high school students and National Honor Society Members at the local high school. They eagerly publicized the event and brought in a new group of student volunteers. Kate and Rachel plan to use this year's experience to mentor two students from the class behind theirs, continuing to grow a committed community of young people.
Being part of the P4P community for 15 years has been a privilege and great source of joy. We here in Granby look forward to gearing up for many more!