Summer 2017 InStitch
Introduction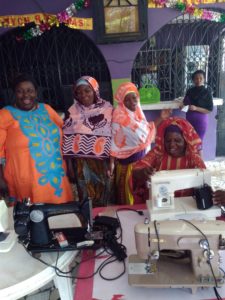 The Honorable Sophia Mwakagenda is a Member of the Parliament of Tanzania. From 1 April 2016 to 20 March 2017 the Honorable Mwakagenda visited different constituencies of the Longido and Ngorongoro districts in the Arusha region, and the districts of Rungwe, Kyela, Mbarali, and Mbeya in the Mbeya region. This visit was a continuation of visits countrywide in order to listen to the people and implement some of her programs through her NGO She Can Foundation.
The visits in Mbeya and Arusha regions were coordinated by the Office of Members of Parliament located in Mbeya city.
Honorable Mwakagenda was accompanied by a team of 4 researchers and assistants: Edwin Mwaitebele, Emmanuel Ngwetta, Mpegwa Mwakang'ata, and Frank Kayumba.
The Purpose of the Visit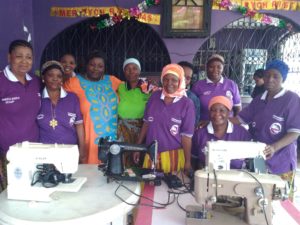 The purpose of the visit was to help women's entrepreneur groups by giving them means of production, like sewing machines, to improve their productivity in their local settings.
Specific Objectives
To meet women's social and economic groups in different areas to hand over support and equipment including sewing machines
To provide some knowledge and skills to these groups
Activities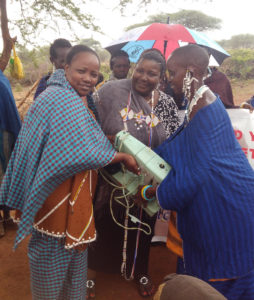 The team met six women's social and economic groups from seven constituencies of Arusha and Mbeya regions with the aim of sharing with them knowledge and skills on entrepreneurship for them to improve their work. The MPs handed over sewing machines during this visit. In Mbeya region and Arusha region, which is Masaai, the MPs handed over a total of 61 sewing machines.
The Honorable Mwakagenda gave four sewing machines to women's entrepreneur groups in Mbeya urban constituencies.
In her visit of 17 and 18 March to the Longido district of Arusha region, MP Mwakagenda gave a sewing machine to a 21-year-old woman known as Grace from the Ngarenaibo village. The machine gives Grace employment and should improve her family's economic situation.
Numbers of Sewing Machines Given
From 1 April 2016 to 23 March 2017, MP Mwakagenda gave 73 sewing machines as follows in Mbeya and Arusha regions.
REGION (District)
NUMBER OF MACHINES

---

MBEYA (Kyela, Rungwe, Mbarali, and Mbeya)
36
ARUSHA (Longido and Ngorongoro)
37

---

TOTAL
73
Other Activities
Honorable Sophia Mwakagenda had an opportunity to visit Ngorongoro Crater, which is an international tourist attraction in Ngorongoro district and talked with the leadership concerning their challenges in their day to day work.
Honorable Mwakagenda also visited her fellow MP Honorable Cecilia Pareso in Karatu district to console her on her brother's death, which happened few days ago.
Reflections on the Visits
MP Mwakagenda and her team got a good reception from the leadership and citizenry in general.
The level of awareness of the people, particularly women, in attending, listening and participating to the Member of Parliament meetings was very high.
These visits give people hope: the visits show love and togetherness in society regardless of location, tribe, background, status, and colour.