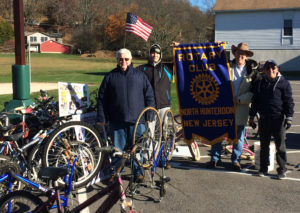 Our 27th calendar year collecting bicycles came to a close today on Veterans Day, November 11th, 2017. On a below-freezing morning, the Bunnvale Assembly of God together with the North Hunterdon Rotary Club collected 106 bicycles and 8 sewing machines — a great result in any weather. We would like to thank all of the participants, and especially Jim Murray, who was instrumental in making this collection happen.
There is a strange dynamic for end-of-season collections in the fall: Once we get to November, people are really thinking about getting their car into the garage, and sometimes unused bikes are in the way, so we have a better chance of collecting a lot of bikes. On the other hand we also have a greater chance of bad weather. Cold weather was obviously not a problem for today's collection.
I would like to personally thank all of the collectors who have helped make 2017 a record-breaking year, with 12% growth in the collection of bikes and an amazing 55% growth for sewing machines. And to all of you springtime collectors, the time is now to book your spring 2018 collection to get the date you want. Get in touch with Lori at 908-638-4811 or lori@p4p.org.
We have been preoccupied with an incredible fall collection season. However, our new end-of-the-year newsletter is almost ready and we will be getting it to you very soon!