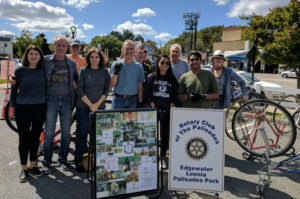 Our fall 2017 collection season kicked off on September 9th.
The morning collection in Branchburg netted 104 bikes and 4 sewing machines.
The afternoon collection in Leonia got 46 bikes and 6 sewing machines. We got a handful of excellent road bikes and a few dozen sturdy hybrids, the most useful bikes in our partner countries.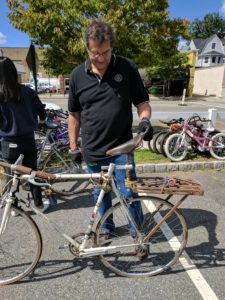 The most unusual bike I've ever seen at a collection was a 10-speed Peugeot, probably from the 1960s or 1970s, that has a seat mounted on a horizontal bar that slides forward or backward in a separate mount on the seatpost; it looks like an optical illusion. The original handlebars have been replaced by a short, straight bar with handmade wooden covers. The bike also has a handmade wooden bike rack. Amazing bike!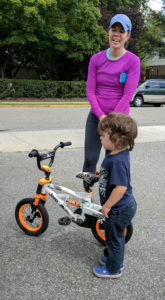 The Leonia collection also had our smallest bike donor ever. He must be about 3 years old. We asked this young man about the bike he was donating. He said, "I have a new bike. It's bigger. It's red." We asked him why he was donating his old bike. He said it was because somebody else needs it more than he does.